Back to overview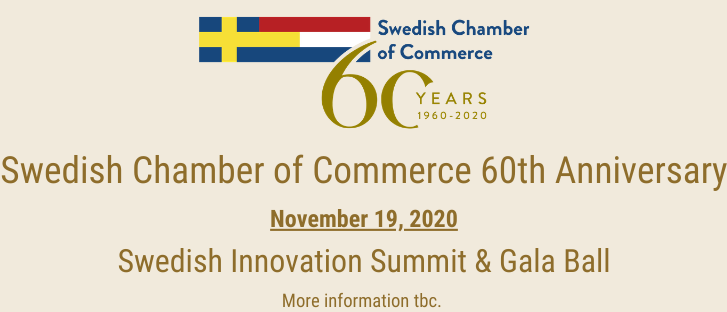 On November 19 2020, the Swedish Chamber of Commerce will celebrate their 60th Anniversary with a Swedish Innovation Summit and Gala Dinner celebrating Swedish Innovation. The Summit will be about 21st-century Innovation bringing together business leaders, entrepreneurs, politicians and academics from both Sweden and the Netherlands to address the greater trends facing us, from tech to climate change, the future workforce or global trade. We are looking forward to look at our joint future ahead, the challenges, and how we can learn from each other.
For more information, company collaboration, Official Swedish Chamber of Commerce Sponsorship 60 Years anniversary and reservations welcome to contact General Manager Kerstin Gerlagh at the Swe-Cham office.
Let's celebrate together!
The Swedish Chamber of Commerce cordially thanks the Swedish Chamber of Commerce Official 60th Annivarsary Sponsors:

Register for this event - Non-members
Register for this event - Members
Thank you for registering for this event. Below you can let us know if you want to bring a guest, and if so, how many.