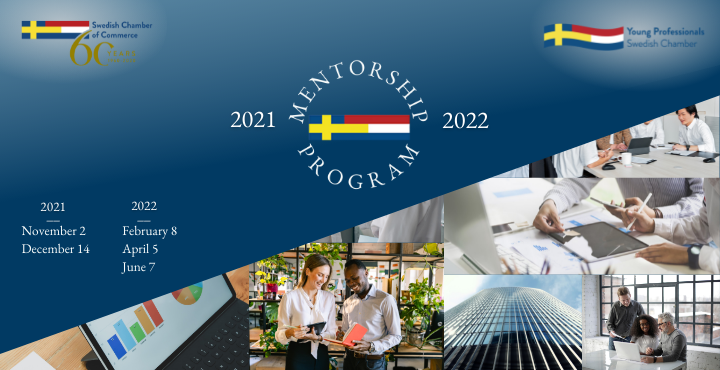 Swedish Chamber of Commerce Young Professional Mentorship Program 2021 – 2022
21st-Century Leadership – Navigating in a world of change                          
Application for the Mentorship Program 2021-2022 is now closed.
With the Swedish Chamber of Commerce Mentorship Program, the Swedish Chamber of Commerce is supporting the next generation's leaders by connecting young and ambitious talents with experienced international business professionals from across all fields and sectors within the Swedish Chamber of Commerce. The program offers a unique opportunity for young professionals to benefit from an exclusive eight-month program of group workshops and individual mentoring and sharing experiences of successful senior industry professionals and guest speakers.
The Swedish Chamber of Commerce Mentorship Program was launched in October 2012. Since then, more than 100 Young Professionals of the Swedish Chamber have followed the program and benefited from their future personal and professional growth. The many Mentors have benefited to meet the new generation leaders of the future and learning more about their insights and values. This year we are very happy to connect nine Mentors and Mentees to follow the program under the excellent leadership of the Swedish Chamber of Commerce Mentorship Program Coach Henrik Jan Guitink, Managing Partner of AIMS International Netherlands B.V.
The Swedish Chamber of Commerce Young Professionals Mentorship Program is an 8-month program consisting of 5 mandatory Seminars and workshops covering topics as navigating in a world of change, past pandemic business culture, personal development, and mindfulness and recovery, inspired and supported by senior business professionals from across all fields and sectors within the Swedish-Dutch business community. It strives to provide participants with the opportunity to grow in their careers and to enrich their personal developments by exchanging experiences, views, and knowledge. By utilizing the Chamber's extensive network of international business leaders, the program offers Young Professionals a unique Mentor experience.
Tuesday, October 26, 2021
17.00-18.00
Mentor meeting sharing Mentor guidelines and frameworks (Mentors only)

Tuesday, November 2, 2021
18.30-21.00
Introduction and speed dating
Hendrik Jan Guitink

During the first meeting, the Kick-off, you will meet your Mentor/Mentee and you will get introduced to the Mentorship program and what to expect. The program and guidelines will be presented, and the material will be supplied, including a Mentorship agreement. At the kick-off, we will also have a Kick-off Speed Dating session to get to know each other better and to make it possible to build your business network and to make progress from day one of your Mentorship Program participation.
Tuesday, December 14, 2021
18.30-21.00.
A changing (Technology) working Landscape
Marcel Damen
Founder – Horizon Internet Technologies
Founder – Fare Care Solutions

With the acceleration in digital, the demands on technology — for speed, flexibility, reliability, security, and value — have radically increased. What does it mean for business leaders, how to review and transform ideas and organizations?
Tuesday, February 8, 2022
18.30-21.00
Social Skills

Malin Hedlund
MH Leadership, Breakthrough Master Coach/ Founder of Flow & Flourish Method
Social skills are essential to effective communication, and no leader can be efficient and effective if one cannot communicate well with those who they lead. It is about consistency, integrity, setting an example, and being a role model. People will follow you and share the same vision if they see consistency between your speech and behavior on a daily basis. Additionally, you should earn the respect and trust of your team, without the use of power or hierarchy.
Tuesday, April 5, 2022
18.30-21.00
Business Culture
Gabriele Hamm Adler
People & business developer/ coach/ facilitator/ founder and owner of GHA Development, Celemi solution partner / AIMS International Leadership Consultant

Everything is changing so fast, and it has become more important for the leader to understand everything that's happening around us, but also to be able to understand how it will impact the organization you are working for. How to be genuine but also to understand that values change over time.
Tuesday, June 7, 2022
18.30-21.00
Mindfulness and recovery
Kristina Zumpolle
Founder Zumflow
Whether our leadership affects millions, hundreds, or a handful, we can no longer afford to be on autopilot in our lives, with our families, or in our organizations.
Practice Mindfulness & Cultivate Presence
Build Emotional Intelligence
Develop Availability, Flexibility, Resilience
Focus on Integrity and Ethics
Embrace Radical Responsibility
Lead from Radical Possibility
Live the Spirit of Mastery
The Swedish Chamber of Commerce Mentorship Program 2020-2021 is supported by:

Venue:
Swedish Chamber of Commerce
Edge Olympic
Amsterdam