Back to overview
In the first project phase, Sweco is responsible for the complete design, the necessary permits and the subsidies. Organizing an international team of Belgian and Dutch specialists, we are able to carry out the entire project in an integrated manner.
Sweco is also involved in other green hydrogen developments in the Netherlands and Belgium with the deployment of engineering for infrastructure, compression, cooling and storage modalities according to the strict safety requirements for high pressure hydrogen.
Positive impact on the entire value chain of hydrogen
VoltH2's 25 MW green hydrogen plant in Vlissingen can produce up to 3,500 tonnes of green hydrogen per year, scalable up to 100 MW (14,000 tonnes). For context, one kilo of hydrogen is enough to drive a car 100 km. The production plant can be connected to the European Hydrogen Backbone – the dedicated hydrogen infrastructure traversing Europe.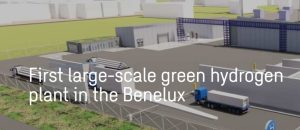 Additionally, VoltH2 is in the advanced stage of permitting (received the environmental permit, still in objection phase) for a second green hydrogen plant in Terneuzen, in joint development with Virya Energy, also with an initial capacity of 3,500 tonnes hydrogen per year, scalable up to 75 MW (10,500 tonnes). VoltH2 is also actively developing additional sites in Belgium, France, and Germany.
The use of available commercial green hydrogen is one of the keys in the global energy transition to limit the use of fossil fuels. This is now fast becoming an economic reality. Zeeland offers enormous potential due to the large-scale demand for hydrogen, the plans for regional connections and the space for sustainable energy production by means of wind at sea.  – André Jurres, founder and Managing Director of client VoltH2.
Click here to learn more.