Back to overview
Despite the lingering COVID-19 pandemic and increasing talk of a global recession, the number of so-called unicorns worldwide continues to rise.
In 2022 so far, 239 new unicorns, a moniker for venture capital-backed companies valued at $1 billion or more, have emerged, according to the market research firm Pitchbook. This year's growth is on pace with 2021, which saw a record 588 companies earn unicorn status—more than the previous four years combined.
The term unicorn was first coined in 2013 by Aileen Lee, a longtime venture capitalist who published an article in TechCrunch about the burgeoning club of billion-dollar startup companies. It was quickly popularized by venture capitalists, first in Silicon Valley and then across the global technology startup sector.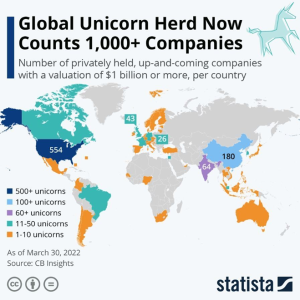 This year, new unicorns have popped up across the world. Regionally, North America tops the list with 146 new unicorns so far, according to Pitchbook. Europe, Asia and Latin America follow with 42, 40 and 6 new unicorns, respectively.
Sweden ranks number 17 with 8 unicorn companies in total, and the Netherlands are on 19th place with 7 unicorn companies in the Global Unicorn Statista 2021.
Among the Swedish unicorns we find Swedish Chamber of Commerce Patron Member Klarna. The other Swedish unicorn companies in the ranking are: Einride, KRY, Epidemic Sound, Northvolt, Polarium, Instabox, and VOI.The Dutch unicorn companies: Hotmart, Mollie, Mambu, BackBase, Bunq, BitFury, and MessageBird
Follow the link to read the report: https://bit.ly/3RNo0pe