Back to overview
Following 2020, a year where the majority of the respondents described their financial performance as profitable, the year 2021 was even more profitable.
In fact, 89% of the companies answering the survey found 2021 as a profitable year.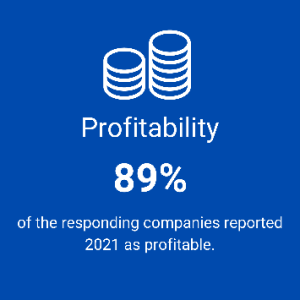 Furthermore, this year 6% of the respondents answered that they made a loss, which in comparison to last year was 19%. Therefore, we can see that 2021 has been a strong year in financial performance.
Welcome to read the Business Climate Survey 2022 in the Netherlands where more valuable insights are shared: https://bit.ly/3yCeTQR
Don't miss the opportunity to listen to the launch of the Global Business Climate Survey presented jointly by Business Sweden and Swedish Chambers International (SCI) and hosted at the Stockholm Chamber of Commerce.
Date: Wednesday 31st of August
Time: 13.00-14.30
Place: Regeringsgatan 29, Stockholm and online (if you chose to participate online, you will receive a link closer to the event day)