Back to overview
Country Sustainability: Visibly harmed by Covid-19
In the Country Sustainability Report by Robeco the Scandinavian countries consolidate their leading positions In Spring 2021, the Nordics continue to sustain their sustainability leadership in the world. Attaining an ESG score of 8.92 on a scale of 1 to 10 (best), Sweden tops the current Country Sustainability Ranking, just ahead of its Nordic neighbors Finland, Norway, Denmark and Iceland. Switzerland follows in sixth place with a score 0f 8.54, just ahead of New Zealand – the best-ranked country outside of Europe. The top-ranking group (with an ESG score of 8.0 or higher) includes 13 countries, 10 of which are located in Europe. Apart from New Zealand,
only Australia and Canada made it into the list of high-performing nations (see Figure 1). All these economies enjoy robust and well-balanced sustainability profiles across all three ESG dimensions and have displayed continuously strong sustainability performance since the start of our country's sustainability database in 2000. At the other end of the ranking is the group of 22 countries with scores below 4.0. All are emerging markets and belong to the low- and lower-middle-income developing economies, except for Iraq and Libya (classified as upper-middle-income economies) and Venezuela (temporarily unclassified due to the lack of revised national accounts statistics). Of the 23 developed countries covered by our analysis, 20 belong to the two top-tier ESG categories (scores of 7.0 or higher); only Greece, Italy, and Spain are part of the medium-performing category (scores between 6.0 and 7.0).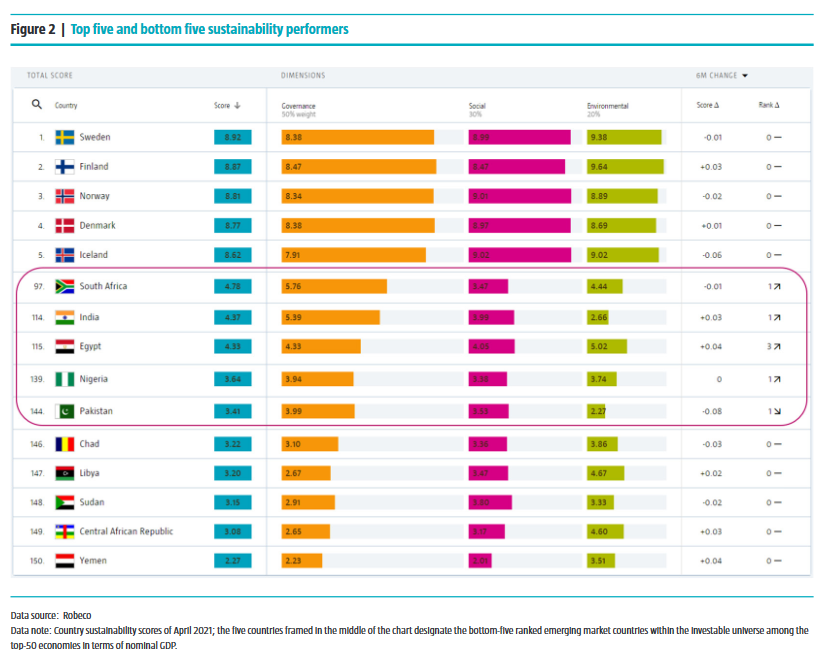 A noticeable anomaly is the US, who's persistently disappointing sustainability performance during the
Trump presidency has caused it to drop out of the top 20. From a score of 7.64 and rank of 18th at the start of the Trump administration, the country suffered a continuous decline in the score to 7.38 and rank 21st in April 2021, with a weakening performance in all three ESG dimensions. Still, with the inauguration of the Biden administration in January this year and the change in direction in various policy areas, there is a reasonable chance for this decline to come to a halt, or even be reversed over time 6 | Country Sustainability: Visibly harmed by Covid-19 Singapore maintained its strong position as a leading emerging market country with an ESG score of 7.93 and a rank of 15th overall, ahead of European peers Estonia, the Czech Republic and Lithuania. Out of the group of 127 emerging and developing economies, only nine made it into the second-best category (scores between
Figure 2 displays the wide sustainability performance contrast between those at the top and bottom of the ranking. The countries that make up the bottom depending on which universe is being counted. The fully assessed universe is composed of 150 countries. South Africa, India, Egypt, Nigeria, and Pakistan make up the lowest-performing countries when only 7.0 and 8.0). Apart from Singapore and Hong Kong, they are all located in Europe. BRICS and other emerging heavyweights, such as Indonesia and Mexico, continue to display disappointing sustainability performance, especially considering their economic potential. considering the investable universe (defined as the top 50 economies in terms of nominal GDP in which one can invest). Unsurprisingly, the names at the end of the 150 countries ranking all involve highly fragile and dysfunctional states in Africa and civil war-affected Yemen on the Arabian Peninsula.