Back to overview
As an employer with assignees in or business travelers in and out of Sweden, or if a company is planning to send assignees to Sweden, it is likely they are aware of a very important change in Sweden's tax law that came into effect on January 1: the introduction of the economic employer concept. The new regulations around economic employer mean that Skatteverket will now consider factors beyond who pays the employee's salary when assessing who is the employer of an employee. Days spent working in Sweden will also be critical to determining the mobile employee's tax liability. Organizations sending employees to Sweden should set up a process as soon as possible to track:
who is travelling to Sweden,
how many days are spent in Sweden, and
what tasks are performed in Sweden.
KPMG & Meijburg invite you to watch their new video "Economic Employer: The 'Game Changer' in Sweden's Tax World" (approx. 8 minutes) to learn more about the new approach by Skatteverket and what economic employer means for the members of the Swedish Chamber of Commerce and the Dutch Chamber and their mobile employees in Sweden.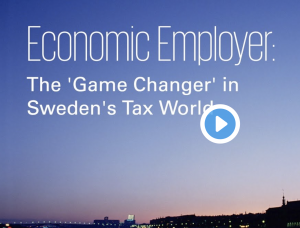 Scott Shaughnessy (GMS-Washington National Tax) and Petter Frödeberg (GMS-Sweden) discuss the introduction of the economic employer concept in Sweden. This is a significant change in Sweden's tax system with important implications for global mobility.