Back to overview
On January 13, 2021 the Swedish Chamber of Commerce was very proud to host Johan Uhlin Managing Director  Scania Production Zwolle B.V. and Janko van der Baan Managing Director Scania Benelux | Management Team Scania Belgium NV-SA | Scania Nederland BV | Scania Luxembourg SA for a webinar on the Electrification of Transport. We would like to thank Janko van der Baan for his highly interesting presentation and all guests for their active participation and questions, making this Roud table webinar to a huge success.
The electrification of transport is an important step for a more sustainable world.  A successful industry transition depends on a delicate balance between both environmental and business sustainability, as well as maturity in technology and infrastructure. A balance best achieved together with producers, customers, and partners in energy and infrastructure. Electrification of the heavy commercial truck fleet is decisive in reaching the Paris Agreement target of limiting global warming to well below 2°C.  E-vehicles will therefore increasingly be an attractive option.
Conclusions by Janko van der Baan
Sustainability is essential for our future business
Connectivity plays an important role in efficient transport
Energy efficiency can also be achieved with here and now solutions
Here and now energy is the transition to a sustainable future
Scania takes its responsibility into the sustainable future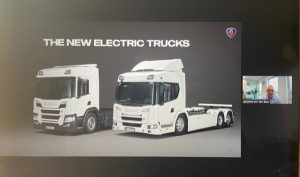 On September 15, 2020 Scania launched its first range of electric trucks. The high-performance plug-in hybrid and fully electric trucks initially focus on urban applications.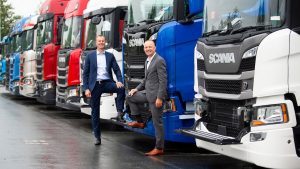 Keynote Speakers:
Johan Uhlin Managing Director  Scania Production Zwolle B.V.
Janko van der Baan Managing Director Scania Benelux | Management Team
Scania Belgium NV-SA | Scania Nederland BV | Scania Luxembourg SA