Back to overview
From the 7th until the 11th of November 2022, the Regional Business Development Network Nordics, the Embassy of the Netherlands in Stockholm and Task Force Health Care will organize an exploratory Life Sciences & Health visit to Stockholm and Gothenburg, Sweden.  During this visit, various healthcare stakeholders in Stockholm and Gothenburg will be visited, amongst others, public, private and academic hospitals, knowledge- and research institutes and important health networks.
The visit focuses on exploring opportunities and areas for future collaboration between Sweden and the Netherlands in the areas of eHealth, medical devices and healthy ageing.
The program is still under development but will include the following elements:
Site visits in and around Stockholm and Gothenburg, e.g. to medical universities, elderly care organizations, companies and networking organizations.
Round table discussions on technology trends and possible collaboration opportunities in themes centered around digital health / elderly care.
Networking events.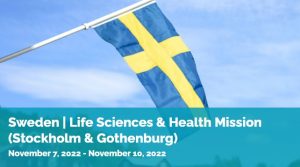 After this trade mission, you will have strengthened your…
… knowledge of opportunities for your specific product/service in Sweden.
… entry strategy/sales & marketing strategy for your specific product/service.
… network of key opinion leaders and buyers in the Swedish LSH sector.
… approach to develop projects and/or sustainable business relationships in Sweden
If you want to be part of the Dutch LSH delegation, please register before 30 September 2022.
Click here to learn more.