Back to overview
In light of Russia's invasion of Ukraine and the following sanctions, the Government is now strengthening preparedness for the Swedish business sector and foreign trade through close dialogue with relevant actors. The economic effects on Sweden are currently limited, but the situation concerning increased energy and oil prices, as well as the turbulent capital market, may deteriorate. There may be quite extensive and serious consequences for the world economy, which is why the Government is closely monitoring developments and is prepared to act depending on how events unfold.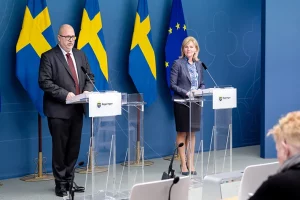 Karl-Petter Thorwaldsson, Minister for Business, Industry and Innovation and Anna Hallberg, Minister for Foreign Trade and Nordic Affairs. Magnus Liljegren/Government Offices of Sweden
The Russian invasion has led to the most serious security situation since the Second World War and is creating great uncertainty. This is illustrated by reactions in financial markets and by the fact that the price of raw materials such as oil and gas has risen, which affects the Swedish economy. The relevant Swedish government agencies are working hard to support Swedish companies by gathering information on how the sanctions against Russia may affect these companies. This can then be used to help them to navigate and make strategic assessments in this very complex situation.
"We must be prepared for both the short-term and the long-term effects of the developments we are currently seeing. Sweden has very strong public finances and so good opportunities to act if and when necessary – depending on how the situation develops. Let me emphasise that the Government greatly appreciates the work and the major efforts that companies with a presence in Ukraine are making for their staff on the ground. I am proud to be part of a Government that, together with the EU and a host of other countries, stands up for democracy and for the right of each country to determine its own future," says Minister for Business, Industry and Innovation Karl-Petter Thorwaldsson.
As part of the efforts to strengthen Sweden's preparedness, the Government is now establishing closer dialogue with the business sector, trade unions and relevant government agencies to obtain an overview of the situation.
"We hope for a speedy end and a withdrawal, but we must prepare for a protracted conflict that will test us as a country and as citizens, and that will test our business sector. We are not yet able to get a full overview of the effects of the crisis. That is why the Government – and I, as Minister for Foreign Trade and Nordic Affairs – see dialogue with the business sector, trade unions and other countries as crucial – we exchange information, pool our strength and work towards a common goal. We are stronger together," says Ms Hallberg.