Back to overview
The Swedish Chamber met with Linus Wretblad, serial entrepreneur and CEO of new Member company IPscreener. With the vision to create sustainable innovation and to democratice intellectual property, the AI driven platform enables everyone and anyone to explore and understand the knowledge hidden in patents.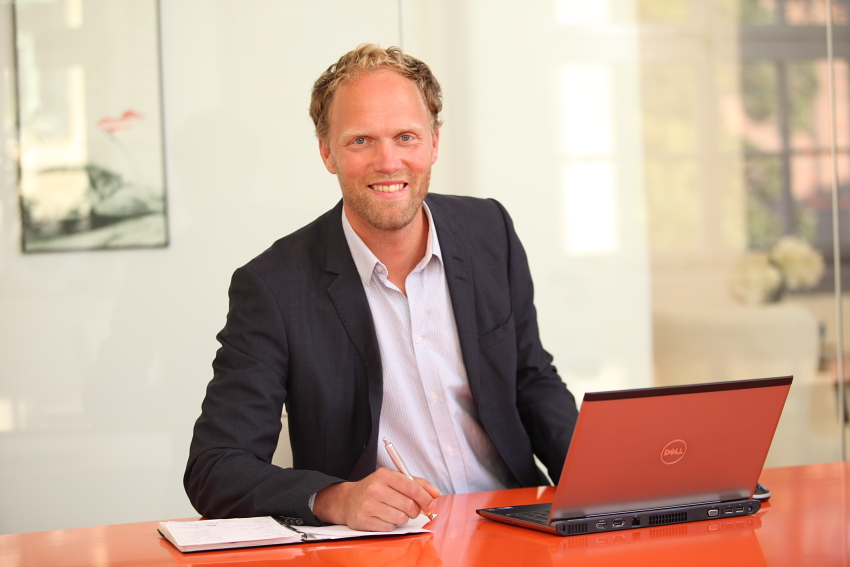 Linus Wretblad, serial entrepreneur and CEO of IPscreener.
Linus Wretblad launched his first start-up back in 2000 — a service firm helping innovators and companies to assess if they were actually innovating new stuff or re-inventing the wheel, so to speak. Before launching his start-up, Linus worked for the Swedish Patent Office, giving him the initial idea to work as an innovation consultant. But what he noticed during those earlier years was the tendency for him to enter the innovation process too late.
— It felt like a shame having to decline and say 'yes it is a great project, but you know it already exists' too often. And then I thought that if we professionals can find it so easily, we might as well build an algorithm or an AI that does the same thing and help decline earlier in the process. So then I launched my second start-up, IP-Screener.
Democratising intellectual property
The vision is to create sustainable innovation and to democratize intellectual property, which basically means to enable everyone and anyone to explore and understand the knowledge hidden in patents. 80 percent of all the tech knowledge is hidden in patents, Linus explains, and as much as 90 percent of this data is free to use.
— The problem is that it is so complicated to understand and explore that you normally need specialists to do it. But what IP-Screener is doing is that it enables anyone, just from using your own words, your own texts or your own description of an idea, to straight away get a dashboard of the innovation landscape, and it also helps you to understand and interpret the documents showing up.
Is it like a search engine, in a way?
— I call it business intelligence collector, because you get smarter and get instant insights from the world-wide knowledge base. You get an understanding of the most similar technologies out there and how they relate, who the main competitors are and where they are. And also where the possibilities are to make more business. So it is more than a search tool. It is about building your knowledge and your brains to have better business.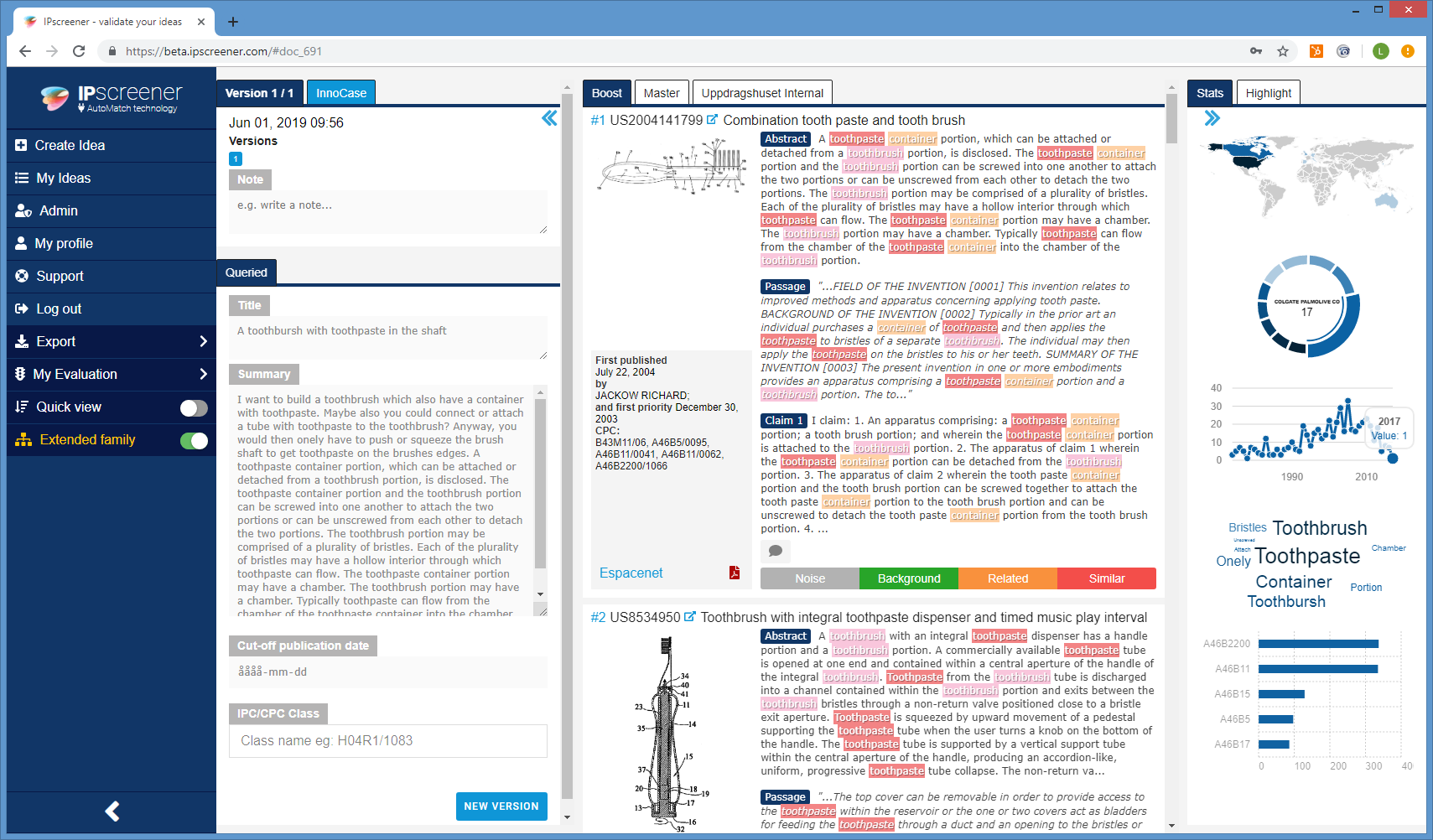 Screenshot from the IPscreener platform.
Creating innovational structure
Naturally, it is profitable for businesses to use IPscreener during the so-called birth stage, where the business is still just an idea. That is when you according to Linus want to ask the question 'might someone else have done this already?' and explore thoroughly, rather than start building. However, larger companies with already established innovation workflows also profit from using IPscreener, he explains. Especially in terms of structure.
— You would benefit from having IPscreener as a tool for running through ideas as a preliminary step. This way, everytime you open up a new idea for review, you already have a dashboard of the innovation landscape provided, meaning that you have a structure for dealing with new ideas.
IPscreener helps to create a transparent process, especially in times where teams reviewing ideas within companies tend to be small with limited budgets, making it hard to review projects with exhaustive analysis. You sort of get a traffic light for different projects,, helping to distribute resources of time and efforts to those that more promising, and avoid risking reinventing the wheel Linus says.
— The red light is when you find something completely overlapping, and then you can close the budget. Yellow might be projects that are partly overlapping, which then gets smaller budgets. And green is where you do not find anything similar, and those are the cases where you should do an exhaustive manual assessment.
Chamber membership and strategy
IPscreener is a member of five Swedish Chambers around the world, the most recent being the Swedish Chamber of Commerce in the Netherlands. But despite the fact that he has been doing start-ups for more than 20 years, Linus admits he discovered the benefits of a chamber membership quite late.
— I never thought about the fact that we have Chambers of Commerce in different countries. When I then met people from the chamber in San Francisco during an innovation camp, it sort of opened up a new world to me. I thought 'hey this is a good network and solid organisation, and the brand of three crowns and Sweden is very strong'.
From there on Linus started to explore the chamber networks, creating events and exchanging contacts. As the memberships have increased over the years, he continues to benefit from the same things.
— I think that is a very good way to create networks and to share experiences, and I believe very much in that. Also in letting the chamber be a door opener for companies we normally have problems reaching, for example when we are exploring new features of ours.
Why is the brand of Sweden strong?
— I wish I had realized this sooner, but Sweden is a very solid brand which has been on the international market for a long time. It stands for quality, transparency and reliability. And that opens up a lot of doors. If I say that we work together with the Swedish Chamber of Commerce, people want to listen and they are more interested to share experiences.
Text: Jennifer Nilsson — The Swedish Chamber of Commerce for the Netherlands