Back to overview
Budbee, a Swedish log-tech company, arrived 2019 to the Netherlands as their first market outside of the Nordics. Since their launch in 2015 in Sweden Budbee has delivered an ambitious growth and attracted strong investments backing. Budbee's arrival in the Netherlands shows the strong positioning as expansion market for Swedish companies, and especially in the field of e-commerce and logistics. By setting up their office, team and launching with NL customers Budbee has shown they are capable of making a strong and successful market entry.
Budbee has an innovative approach to last mile logistics, by making sure that the consumer has flexibility and control over their delivery and assuring that this can be done in the most sustainable way to minimize distances travelled and focus on CO2 reduction. This innovative Log-Tech company, the next generation companies to follow the big Fintech movement, received the Swedish Chamber Entrepreneurs Award 2019.
Who is Jørgen Höppener?
You couldn't tell from my name but I am born and raised in the Netherlands and lived for a short while in Italy in my youth. 30 years old and a big fan of football. After finishing Econometrics in Rotterdam, I went into strategy consulting, because I wanted to work with analytics and business. Being in the consultancy business I worked with many different companies ranging from very large corporates to also smaller startups and scaleups in many different sectors such as e-commerce, retail, transport and insurance.  That has given me the leverage to be able to do this job that I am doing today at Budbee. I moved to Budbee because it is a great challenge to actually build something from scratch. We offer a great product that I really believe is needed on the market. In the short time that we have been on the Dutch market I have been able to build up and scale my own team. One of the advantages of working in a company as Budbee is that I have the responsibilities of the Netherlands but still the comfort of a great product that has been developed and proved itself already in Sweden and also, the comfort of having our great investors, H&M and Kinnevik.  We are a technologically company offering a logistic service. The mix of tech and logistics is of great importance. We call ourselves a Log-Tech company.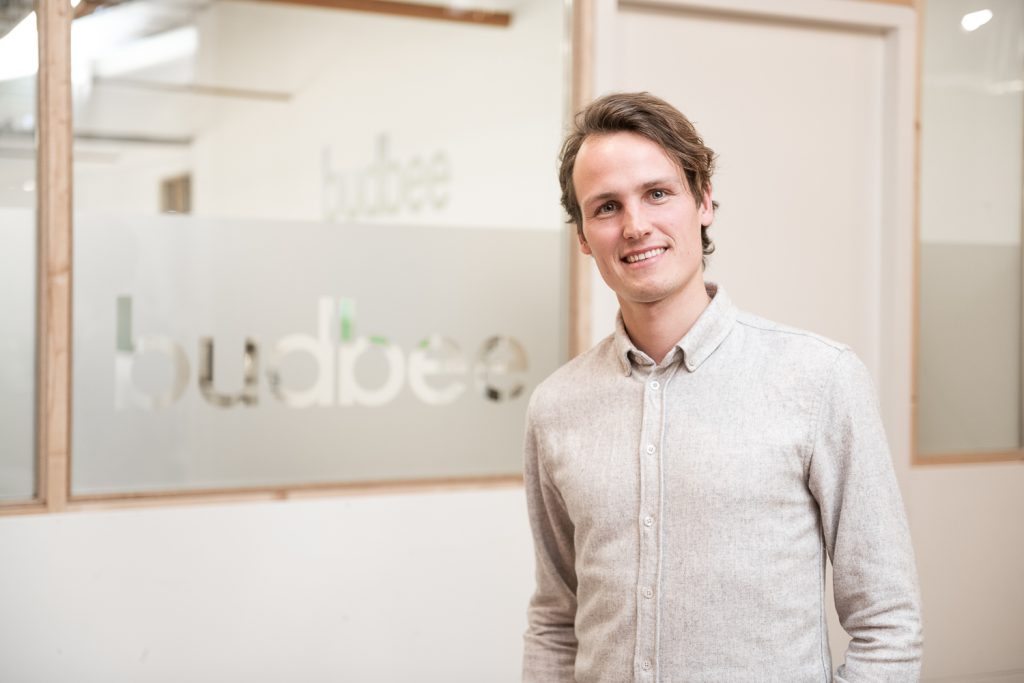 Budbee has a Consumer rating of 4,9. What is the key to Budbee's success and what distinguish you from your competitors in the same branch?
Our market has multiple large competitors, such as Post Nord in Scandinavia and in the Netherlands PostNL, DHL and other strong companies. What distinguishes us is the focus on the consumers. We do that with technology that is scalable. So, everything we do is focused on what consumers want and being able to offer them flexibility. The technology is designed to do so, and based on that, we can offer consumers a delivery according to their preferences. Because the customer knows exactly when we arrive, he/she has more time for the important things in life than waiting for their parcel, things like walking the dog or doing groceries. I think this is key to our success, which we see resembled in our consumer ratings in the end, our goal is to have the best delivery experience in the world.
Dealing with Sustainability
As a technology company in logistics we are actually part of the sustainability problem. But we also want to be a part of the solution and we do that in several ways. We want to do less harm and do better.
We do less harm with our very efficient route optimization algorithm. That makes sure they are shorter than normal and only 30% is drivetime, meaning the majority of the driver's work time he/she is actually busy serving the consumers and not so much driving the van. Also, we can achieve 98% first attempt delivery success, which means that we have fewer traffic to the same address. We combine all parcels that are going from multiple merchants to the same address to be delivered at the same moment. So that's actually a good way to make sure there is less emission. And from our very first delivery in Sweden we have always compensated our carbon dioxide emissions. It has been like that since 2016 and we actually do a bit more, we compensate 110%. We also want to do more good, but we see that electrical vans and also electrical trucks are not efficient enough to be able to do the job yet and we also see that consumers are not really willing to pay extra yet for fairly sustainable deliveries. We do think sustainability is important and have the ambition to move to a full emission free fleet by 2025. In addition, we are building our first self-sufficient terminal in northern Stockholm that can charge a full electric fleet with solar panels. The ambition in time is to make this possible at more of our terminals. Customers will demand more sustainable services and also government policies like Amsterdam says that the city has to be emission free in 2025. I think it's a very good ambition and I am confident companies like ours can make it.
It seems that the Dutch people are champions in returning goods bought via e-commerce. Are there any solutions for that from your point of view?
So that's the dilemma. For example, in fashion, customers are returning more than 50% of ordered goods. I would welcome a solution at the front end, such that returns are prevented. One solution for that would be to make better fitting suggestions when consumer choose their products. But I think e-commerce itself is only going to increase as people have less and less time. With increasingly hectic lifestyles, they want to buy online and have their stuff delivered at their home instead of having to go to the shops. That also means that there will always be returns. But we can handle the returns in the most efficient way. We are in the streets anyhow and when we go to the merchants to pick up the goods to be delivered, we can also bring the collected returns back to the same merchant again. That means there will be hardly extra driving needed.
Do you believe paying for returning packages?
When the technology is not yet good enough to provide better suggestions to consumers, the first solution to reduce returns could be to have customers paying for them. Because then customers will become less inclined to order more than you need. I do however think that such discouraging measures are not the optimal solution. There has to be rules and regulations for the whole branch making sure that the same rules are implemented everywhere because when a shop is not offering free returns the customers will go to the ones who are.
Why did Budbee chose the Netherlands as the first country to enter outside the Nordics?
Well, the Netherlands has a mature e-commerce market. The e-commerce branch has been one of the front runners in Europe in size per capita and also in how fast it has grown. The choice for the Netherlands for Budbee has partly to do with the densely population and how well people connect to internet, but it has also to do with infrastructure. That's all very well arranged in the Netherlands which means that we can very efficiently reach many people within a short distance. This combination makes the Netherlands very interesting for us and that means that with a rather low complexity we can serve the whole country and reach 17 million people. Since our launch in September 2019 we do multiple thousands per day. This is already pretty good, and we want to grow way more.
To start our company in the Netherlands for a Swedish company was quite easy. The Netherlands has a good infrastructure to help you get started. For example, there are plenty of co-working spaces making it relatively easy to find an office location. Furthermore, Dutch people know their English.
I think the Swedish culture is similar to the Dutch culture. Sometimes I do find that Swedes have more structure. Take for example the apartment buildings in Sweden. They are very well structured with just a door code enter. While in the Netherlands all buildings have different entries. One you enter with a door code, the other with an intercom and yet another with a key. Moreover, I think that Swedes are maybe a bit more introvert. For example, in Sweden we have an option in our delivery service to leave the package at the door. Many people in Sweden choose for this option although they are at home. So, they don't want to meet the delivery person and have a little chat. In business I think the Swedes like to start the meetings with a little small talk like "how was your weekend?" while Dutch people are more like "Okay get to the point, I want to finish this meeting."
Are you marketing yourselves as a Swedish company?
Yes, we are. I think we have some nice Swedish tech predecessors that have paved the way, like Spotify and Klarna for example. I think it is an advantage that people know that we are a Swedish company. We are a high-quality delivery company where everything is centered around the customers and the quality. So, I think that there is an association with Sweden and quality and to be able to offer that at a good price just like IKEA.
What are your biggest challenges moving forward?
On the business side the big challenge is the sustainability part of it. There is a mismatch maybe in what the consumer demands when it comes to sustainability versus what they are willing to pay for it.
And of course growing in a fast-paced environment is always a challenge, but a fun one! When you're scaling and growing fast, you need to make sure to have the right company culture within the team and that everybody stays on board and is excited. It is important that the team believes in where we're going and feels part of that journey. Culture is key for us and means that we value everybody's opinions and ideas. We are open and transparent, and we want everybody to feel part of the family, so to say. That's one of the highest priorities to have in place overall in all countries where we are active. Our mission is to be the best delivering experience in the world. So, we are starting with Europe and we are continuously looking into new opportunities and new markets so we will keep on expanding.
Gender equality
What about log-tech industry, what about gender equality?
Yes, an important topic. I think in tech and especially in logistics, it is hard to find women, while I think it is really important because it brings an important mix into decisions and into perspectives. Out of our 16 employees in the NL head-office, we have 5 female employees today. But we would love to increase that balance. Society could support that more, both in terms of policy as well as values. It might be a self-fulfilling prophecy that maybe the society doesn't think women can handle tech while that is totally not the case. I think there are some very good role models we can hang onto more.
Collaboration with the Swedish Chamber.
I think it is great to get this podium to be able to get an interview in the Annual Review and to create awareness by your members. It was a great honor receiving the Entrepreneurs Award last year which also gave publicity in the Chamber network. I enjoyed very much meeting the ambassador and the other new Chamber members at the Swedish Chamber New Member Lunch earlier this year and to have inspiring discussions on common topics. Maybe at first you don't think you could contribute to the network but then when you meet and talk to other member businesses you notice that  there is actually a connection and you never know where that can lead to in terms of collaborations. That is very valuable. When it comes to the Chamber events, I saw you were organizing Women in Tech last year and it can be very important for us to participate in that kind of events.
By Josefina Lundh and Kerstin Gerlagh