Back to overview
The Swedish Chamber of Commerce is very pleased to welcome tourist company Stromma Netherlands, previously Canal Company, as a new member of our business network.
Stromma Netherlands is the new name of Canal Company. Since spring 2016, this familiar face of Amsterdam has become part of the Swedish Stromma Group (Strömma Turism & Sjöfart). Stromma has been active in shipping and tourism in Sweden, Norway, Finland and Denmark for two centuries. With a long history that started with Rederij Bergmann in 1912 and Meijer's Rondvaarten (in the '20's), it became Amsterdam's oldest and biggest shipping company.
The merge of Stromma and Canal Company has been very successful, says Peter Duwel, CEO of Stromma Netherlands. As part of Stromma Group, a global tourism company, we have achieved increased opportunities to develop in important areas such as sustainability, digitalization, internationalization and marketing.
Host of Amsterdam
With 350 employees in the Netherlands, Stromma Netherlands serves 1.5 million guests, every year, on the water and, in and around Amsterdam. Stromma Netherlands presents themselves as the 'Host of Amsterdam', not only for tourists but also for locals. As the Host of Amsterdam, Stromma serves the citizens of Amsterdam, companies, hotels, multinationals based in Amsterdam, as well as, tourists and tour operators. The company is supporting partners of several activities in the city such as Amsterdam Light Festival and Amsterdam City Swim and new solutions such as the A'DAM LOOKOUT, help to spread visitors to areas outside of the city centre.
Minimizing environmental pressure
For Stromma Netherlands it has always been a choice to be in the front row of sustainability and to take responsibility for the beautiful city of Amsterdam is, as they see it, part of the Host of Amsterdam vision. Already in 1984, Canal Company introduced the very first pedal boats on the canals of Amsterdam – this was a great way to see the city, with zero emissions. In the 90's the company introduced CNG vessels, which were more sustainable vessels with a diesel engine. In 2012, Stromma Netherlands achieved the Gold Green Key award for their environmental responsibility and sustainable operations. The goal for 2020 is to have a fully electric fleet.
In 2018 Stromma Netherlands plans to expand from mainly canal and water-based activities and introduce the first, in the Netherlands, electric Hop on-Hop off bus.
Knowledge-exchange within a Swedish- Dutch network
Transitioning from a Dutch local company to being part of a Swedish organization has been successful and offered many possibilities according to Peter Duwel. Since October 2017, Stromma Netherlands has become a member of the Swedish Chamber of Commerce in the Netherlands. Peter Duwel is looking forward to the cooperation with the Swedish Chamber. He believes that it is beneficial to be part of the Swedish-Dutch network and to recognize and cooperate with other businesses in the network. His expectations from this collaboration are many good possibilities for knowledge-exchange on doing business in Amsterdam, and, with other companies.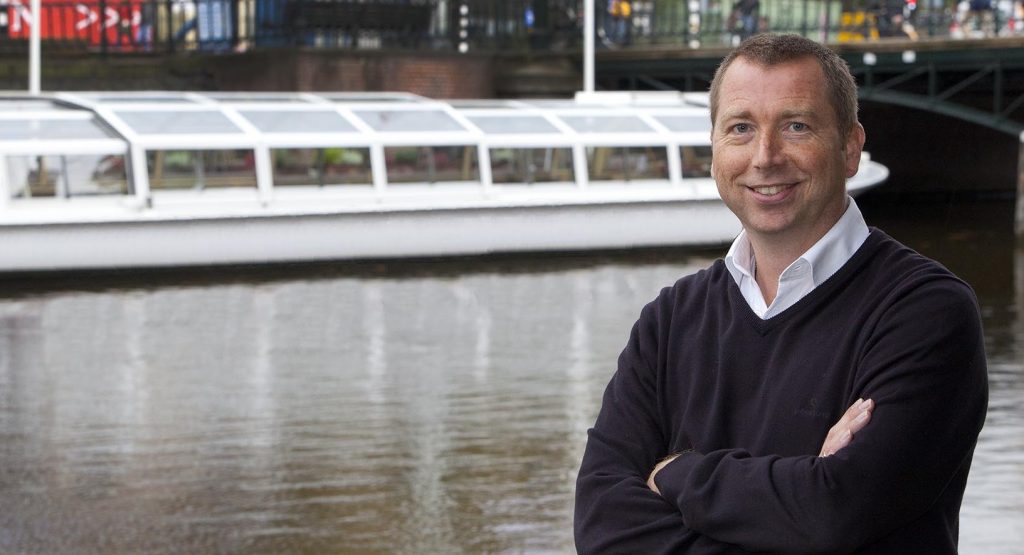 Peter Duwel, CEO Stromma Netherlands