Back to overview
Feature Jonas Kjellberg, Chairman of the Board and co-founder of NORNORM – a fully circular, subscription-based furnishing service
The Swedish Chamber of Commerce met with Jonas Kjellberg, Chairman of the Board at Swe-Cham member NORNORM, to learn more about their circular office furniture solution and to discuss the current transition in office space and the huge changes we are facing when it comes to where we actually work.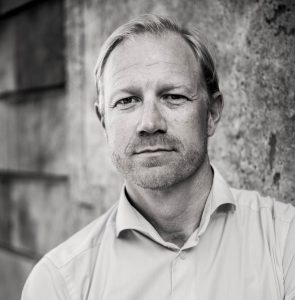 "There has been a change from locking people up in offices to work where you live"
There is a huge macro trend going on and NORNORM has discovered huge changes in the workspace and the location where people are working.
– Office spaces will be transformed and change. You will maybe only be at your office 2 days a week which means you don't need to live nearby the cities where the jobs are located. At NORNORM we see companies, like our self, who transform into hybrid solutions where employees only meet each fourth week physically at one location and then we work from home for three weeks. That means that a person can take a job in New York and live in Amsterdam working from their own home office. I think this is going to have an enormous effect on society. I think that we need the office space as a social point in order to meet people and get energized and inspired because as humans we are social beings. Working from home, on the other hand, give us the opportunity to be more focused and efficient. Offices will also become smaller when most employees will continue to partly work from home.
The brain behind the idea of NORNORM
Jonas Kjellberg, the co-founder of NORNORM, is a serial entrepreneur, investor, and author. He has a long track record of setting up and leading businesses. He worked at Boston Consulting Group for six years building their digital venture unit. He was also a representative at Ingka digital advisory board. Before that, he worked for the Kinnevik Group and did all their digital investments such as Zalando, HelloFresh, Home24, and many more.
– I have had the fortune to do a lot of fun and different things in my life.
He also spent a few years at Stanford and he has written three books together with a Harvard professor about entrepreneurship and how to build businesses. In addition, he has done 40 different ventures and he was chairman of the board of iCloud and some other companies.
How did you come up with the idea for a fully circular, subscription-based furnishing service, and what is the idea behind NORNORM?
– I had the pleasure of working with IKEA's digital advisory board very early on and we saw that everything was becoming increasingly more digital and that people don't even own their real estate anymore. So why should you own your office furniture? We wanted to create our own circular system and to combine this with the ongoing circular movement which means that we need to act accordingly to make sure we have a positive impact on our planet. We found that you cannot just talk about sustainability, we wanted to take the next step and talk about circularity.
"We help businesses to move from linear to circular"
When thinking about creating a new business, Jonas explains that he was convinced that it had to be circular. Here, he saw an opportunity to prove that circular business is possible with founding NORNORM.
– To change an industry will always take time but I see that there is a huge movement towards sustainability and circularity. Not everyone is there yet, but I think a lot of the users of our services will demand that their employers are going more sustainable and circular over time. We need to reduce the waste of furniture and shift the way we are thinking today. Today often when you want a new design or color of your office furniture you throw away all the things you had and buy new. We help businesses to change this behavior, to rethink, and to move from linear to circular. At NORNORM, we also prolong the lifespan of furniture by refurbishing and circulating them between businesses.
NORNORM´s Vision and Mission
"Our vision is to create a better work-life for the many people."
When elaborating on the business model, Jonas highlights that it should be good for People and that everyone should have a good chair and desk to sit in wherever you are working in the world. In addition, Jonas explains that it has to be good for Business, so it should not cost extra, and it should also be good for the Planet, and that it is NORNORM's mission to combine those three.
"The whole perspective is that you don't have to own your office furniture."
Jonas states that the core of NORNORM's concept is to offer circular and attractive office interiors that are accessible to many companies.
– That's how we can become change-makers and make a real impact. That's why we've created this highly affordable subscription model that requires no investment or long-term commitments. The concept is quite simple. You just take the floorplan of your office, fill in the requirements, upload it on our website, and within 24-48h you receive a suggestion from us on how your new office will look. The user can press yes to approve and within 6-8 weeks the furniture will be delivered. If you, later on, don't need the furniture anymore for some reason, they can also end the subscription and we simply come and pick everything up. We are, in fact, trying to do what Netflix did in the movie industry.
The whole perspective behind NORNORM is that you don't have to own office furniture.
– We believe that our service is cheaper than leasing. Circularity is key in all aspects of the business, which means that we must try to optimize every part of the chain; from what items we choose to work with to how they are packed, transported, and eventually refurbished. We adapt our services to build on the customers' needs and offer full flexibility.
Circularity is the new Norm
"NORNORM is not just a concept and a company service – it is a new and circular way of doing business".
Jonas states that the past 1,5 years, with the pandemic going on, has been an interesting period for NORNORM which has actually given them the opportunity to develop the company and the business proposals even further.
"Going round in circles should become the new Norm"

Jonas states that NORNORM sees a growing demand right now from all different kinds of sectors. He explains that people are starting to come back to the offices again after a long time of working from home according to the covid pandemic regulations and the new situation gives room for new perspectives.
– People realize that we are facing a lot of uncertainties and therefore long-term plans don't hold anymore.
For all those large companies and for the increasingly growing group of startup companies that are continuously evolving and transforming, Jonas believes that NORNORM's business model is a perfect match. The subscription model that the company has, allows businesses to invest in developing their business, instead of inexpensive interiors. The circularity of the concept also is vital as companies around the world face stricter requirements from society, as well as from investors, concerning sustainability. This means that going circular in all aspects of your business becomes increasingly important from both an ethical and competitive point of view.
Swedish Chamber of Commerce for the Netherlands
I am looking forward to meeting fellow members of the Swedish Chamber of Commerce for the Netherlands and to further discuss the current office transformation challenges and exchange experiences. As soon as the pandemic restrictions ease we hope to welcome you for a leadership thought session about the future office and hybrid working trends and to introduce you to our circular business model.
NORNORM is active in Sweden, Denmark, NL, Germany, Finland.
By The Swedish Chamber of Commerce for the Netherlands.