Back to overview
On August 2nd 2022 Swedish Chamber of Commerce member PRLab, one of the leading PR agencies for tech companies in Europe with offices in Stockholm, Amsterdam and Munich, is launching its third pro bono campaign to help purpose-driven startups and NGOs gain greater visibility through PR and marketing.
"After the success of our previous pro bono campaigns, we decided to launch a third. There are so many important initiatives out there that lack visibility due to a lack of resources or PR skills. We look forward to supporting local initiatives in Sweden, Germany and the Netherlands with our expertise," says Matias Rodsevich, founder and CEO of PRLab.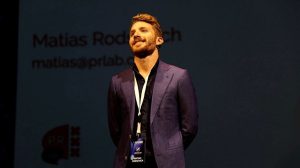 The campaign targets tech startups and NGOs that have innovative solutions to problems in society or industries, and runs until mid-September. The winner will receive three months of free PR support during the last quarter of the year.
"Last year we received over 60 entries, with initiatives ranging from more diversity in tech to raising awareness of individual wellbeing as part of an organisation's success. It will be exciting to go through this year's entries, and we look forward to helping the winner engage their audience in the best way possible during the final months of the year," says Matias Rodsevich.
The closing date for entries is 16 September. Companies can submit their entries by visiting the PRLab website and filling in the form. The winner will be announced on 23 September 2022.
PRLab is an international PR agency with offices in Stockholm, Amsterdam and Munich, specialising in PR services for tech startups and scaleups. Known clients include Meltwater, Peak, Looklet, TomTom and Wayflyer.
Click here to learn more.