Back to overview
For the third time since joining the European Union, Sweden is taking over the rotating presidency of the EU Council, one of the bloc's co-legislators.
For the next six months, the Nordic country will be tasked with setting the political agenda and steering the debate among member states, a hard job that has become even harder in the midst of multiplying crises.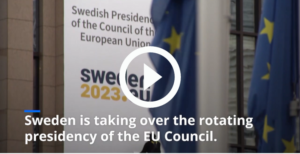 "The Swedish Presidency will be an active one, and will offer constructive leadership to deepen the EU's strengths and find compromises," Kristersson told the national parliament, the Riksdag, last month while presenting his government's programme.
"We will safeguard common European interests, and be humble in the face of the member states' diversity."
Among the many challenges and predicaments besetting the bloc, Sweden has chosen four overarching topics as the main priorities for its six-month presidency: security, competitiveness, energy and democratic values.
Click here to read more on Euronews.
By: Jorge Liboreiro