Back to overview
Sweden has a history of stretching the boundaries and coming up with groundbreaking ideas. From life-saving seatbelts to revolutionary Bluetooth technology and green batteries.
To watch the video click here.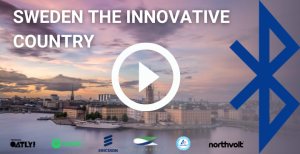 Here are just a few of the many reasons that explain why Swedes are world-leading innovators.
Keep an eye out for our upcoming live Tech Table Events at the Swedish Chamber of Commerce! To read more, click here.