Back to overview
The first meeting in Sweden during the Presidency will be held in Kiruna, Sweden's northernmost city. The Prime Minister has invited the European Commission for talks with the Government on the priorities of the Presidency and current issues on the EU agenda.
The first major meeting during the Swedish Presidency of the Council of the European Union will take place on 12–13 January. As per tradition, Swedish Prime Minister Ulf Kristersson and the Swedish Government will invite the European Commission, led by its President Ursula von der Leyen, to an introductory meeting on the Swedish Presidency. It will be held in Sweden's northernmost city, Kiruna, which is surrounded by magnificent nature and is at the forefront of innovation, space research and green transition.
Click here to read more about the meeting.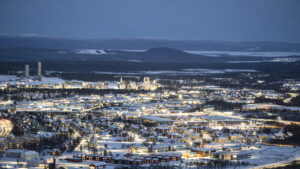 Kiruna is Sweden's northernmost town and a diverse one at that – with the northern lights, the midnight sun, Sweden's highest mountains, a vibrant Sami culture, a space centre, the world's largest underground iron ore mine and an ongoing urban transformation.
Kiruna is located about 200 kilometres north of the Arctic Circle in Lapland, which covers about a quarter of Sweden and borders Norway and Finland. It is a relatively small town with a population of around 23 000, but has an area of 19 447 square kilometres, making it the largest municipality in Sweden. Around 70 kilometres west of Kiruna is Sweden's highest mountain, Kebnekaise.
Due to the town's proximity to the Arctic Circle, Kiruna enjoys about two months of midnight sun. From September to March there is a good chance of seeing the northern lights, or Aurora Borealis, which is a beautiful light phenomenon that can be seen after dark.