Back to overview
From December 1, 2022, the lights of Amsterdam Light Festival Edition 11- Imagine Beyond are on!
For the next 53 days, 20 light artworks turn the historic center of Amsterdam into an outdoor exhibition space. From interactive lampposts, to a giant ball of yarn and from luminous fireflies to an installation that makes it seem like the water is burning. The works of Edition 11 trigger your imagination. Be sure to come and see them and get your tickets now!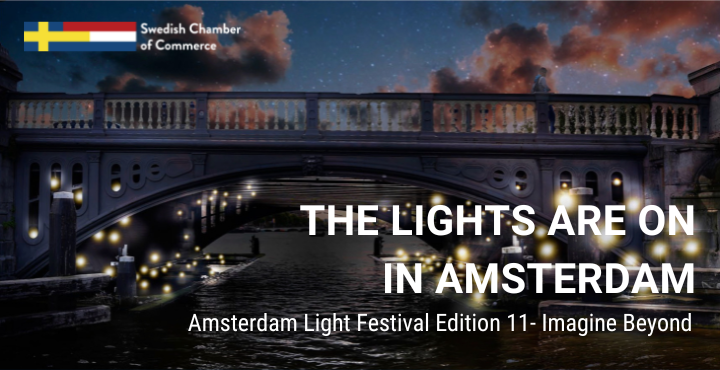 The lights are on daily from 1 December until 22 January, from 5 p.m. to 11 p.m. One exception is New Year's Eve: the lights will then go out at 8 p.m.
You can experience the festival by water or by land, with different options for both categories.
The route is about 6.5 km long, by foot you can expect it to take 1,5 hours. You can begin anywhere you want.
Cruises take approximately 75 minutes. Departure locations for the cruises are different per boat company.
There are two information points with friendly volunteers to help you out: at Prins Hendrikkade and Blauwbrug
Click here for more information about the festival.
Buy your tickets at Swedish Chamber of Commerce Member Stromma Netherlands!