Back to overview
Ericsson 100 years in The Netherlands!
It's our birthday!
On Sunday 15 November 2020, we celebrate our 100thanniversary.
We are proud to have been active in the Netherlands for over a century.
Ericsson has been one of the driving forces as the telecommunications landscape has developed in the Netherlands. The developments in a hundred years have gone so fast, it makes us proud when we look back and see what we have achieved and what we have contributed to in recent years (see press release).
Just like the past centennial, Ericsson will continue to focus on innovation in the Netherlands and the rest of the world. This puts Ericsson at the forefront of 5G.
We would have liked to celebrate this milestone with you but instead we share our highlights with you.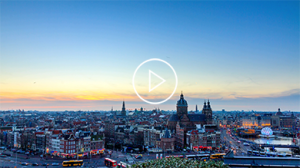 We thank you for your cooperation and trust and look forward to defining the future together with you; our customers, our partners and our Team.
Without you, we would not have been able to achieve this great milestone.
Everth Flores
CEO Ericsson Netherlands