Chairwoman of the Swedish Chamber Young Professionals Committee
Position and company
Organizational Design and Development
IKEA
Nationality
My heart is in – Sweden (where I lived for 8.5 years), India (where i was born and raised) & The Netherlands (where I moved in 2021)
Hobbies?
When I am not working, you'll find me – Walking silky, meeting friends, dancing on bollywood songs, travelling around the world & exploring cute brunch places in Amsterdam
I want my legacy to be : Remembered as a positive, genuine & authentic person & leader
Family: My partner- Chris (born Englishman but mediterranean at heart) and our little dog- Silky (mix of Shihtzu & Lhasa apso)
Passionate about: Continuous development of self and others around me
Superpowers: Planner and Connector.
Planning helps me stay focused and deliver anything I set my eyes on.
And connecting people, with people & with my ownself helps me establish authentic and meaningful relationships, both in personal & professional life
What would you like to achieve with YP?
I joined the Swedish Chamber's YP program as a mentee 2 years ago and it fascinated me how professional and well run the whole thing was so I started to volunteer in the YP committee on a liaison role.
I myself have been on a journey of huge changes in life, career and also countries so as a young professional myself, I know first hand how challenging, interesting but sometimes lonely that experience could be.
So in this role as the Chairperson, together with the rest of the YP committee members, I want to share and use those learnings and experiences to empower and develop the young talent and professionals so they feel supported in a new country & feel confident to take their personal and professional journey to the next level.
We will bring a lot of new and exciting lineups of inspirational speakers & activities in the new year so stay tuned.
Young Professionals Committee Member
Position and company
Managing Director
Einar & Partners
Hobbies
Cooking is probably my biggest passion and therapy in life! I'm also a walker, I love taking walks no-matter the weather and mood. It lifts the spirit!
What would you like to achieve with YP?
As a founder of a company, I would like to develop a supporting network for other entrepreneurs in YP. Getting to know the bureaucracy in The Netherlands is not an easy thing and taking the step of starting your own is a bold move. As a YP committee member, I'd like to share my direct experiences and knowledge in this field. Additionally, I'd like to work on the content strategy of YP to attract talented and driven individuals. The Netherlands and Sweden has a long-standing history of trade, and it starts with the younger generation. Being visible in the right places is key.
Why should you join the YP?
YP is a great place to create both professional and personal relations that makes a difference. Everyone in YP is in one way or another related to Sweden and happen to live or be involved in The Netherlands.
It's a niche, which makes it more important to find like-minded people in that niche. And the fun events and smiles, of course!
Why YP?
Network & fun. I think everybody in YP has an inner curiosity about the world, cultures & career. Combining that with upholding Swedish traditions and organizing events is fantastic.
Young Professionals Committee Member
Position and company
EMEA Ethics & Compliance Manager
Nike
Hobbies?
I love traveling and take every opportunity to explore new places, near and far. I am passionate about building networks and connecting with like-minded professionals. When not engaged in these activities, you will likely find me enjoying a group fitness class or learning a new craft (currently sewing).
What would you like to achieve with YP?
As a member of the Young Professional network, I have benefitted both in terms of growing my network and in terms of upskilling in many areas. Having seen first-hand the value-add, I was inspired to get involved myself. I plan on devoting my time and energy to help create events and initiatives that continue to bring value to our members.
Why should you join YP?
YP is a vibrant community. Whether you want to grow your network, meet other like-minded professionals or learn new skills, YP is the place for this and so much more.
Young Professionals Committee Member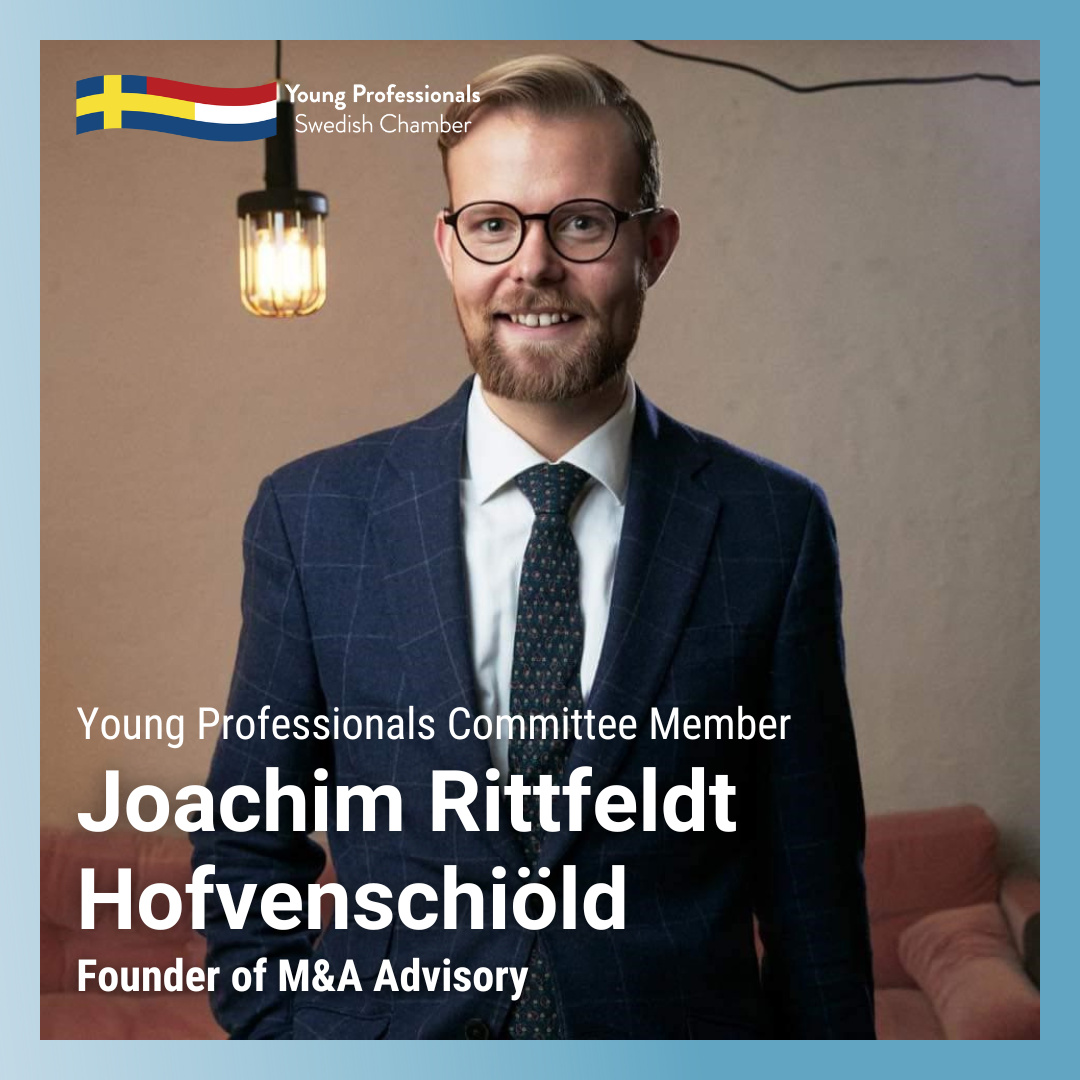 Joachim Rittfeldt Hofvenschiöld
Position and company
Co-Founder
Avata
Hobbies?
Love cooking, meeting new exciting people, adventures, traveling, and finding out more about cultures and food. I have always had a love for games and gaming, previously played professionally in esports so when time allows I play computer games – mainly FPS games.
What would you like to achieve with YP?
I would like to meet more like-minded people as well as reach out to more people in my network to share the same great experience I had when joining YP. Give advice on new exciting events and activities we can create in the upcoming months.
Why should you join YP?
Young Professionals opens many different doors for networking, business, friends, events and on a personal level.
Why YP?
When I first came to the Netherlands I looked into finding a way to remain connected with Swedish traditions, companies, and people. I came across YP and already at the first event  I made a lot of new connections and now friends. The YP network has been a great opportunity for me to get better integrated when I moved to Amsterdam both from a personal but also professional point of view.