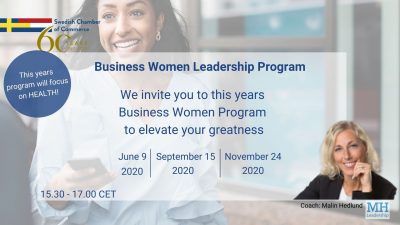 Business Women Program 2020 – Session 2, Online
To elevate greatness, you need to start with your HEALTH, which is the main theme this year.
Program June 9, 2020:
Time: 15.30 – 17.00 
How to build your confidence and stay healthy
How do you build self-confidence and how do you maintain this confidence?
This session will address the importance of good mental and physical health on self-confidence. Being healthy will not only allow you to boost your self-confidence, it will also have a positive impact on your career. It starts with knowing what you radiate and the impact it has both on you and on others.
About the Swedish Chamber of Commerce Women Business Leadership Program 2020
As an ambitious hardworking goal-oriented businesswoman we invite you to participate in Swedish Chamber of Commerce's Business Women Leadership Program 2020 to elevate your greatness. We know that coming together in a group with like minded people increases the inspiration and motivation to take the action steps needed.
The sessions will provide the tools and guidance for you to move forward and develop an effortless kind of leadership that gives you the inspiration and energy you want in your everyday life.
This year's focus is HEALTH!
Example of Topics that will be discussed:
Mental health and the correlation with finding your balance
Self-confidence
Exercise, what kind, why
Morning rituals/routines
Refill with fresh Energy
The following dates for the Swedish Chamber Woman Leadership Program this year are:
June 9, September 15 and November 24.
Read Malin's latest Blog post from May 28, 2020 about having a positive mindset to bring energy to your day.
View event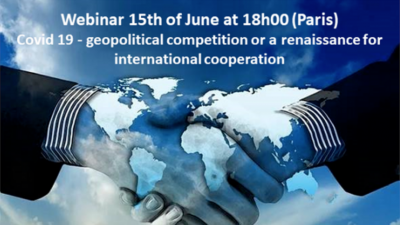 Webinar
June 15, 18.00 CET

Covid 19 – geopolitical competition or a renaissance for international cooperation
With Christian Danielsson, Director-General for European Neighbourhood Policy and Enlargement Negotiations at the European Commission and Mats Isaksson, Head of the Corporate Affairs division at the Organisation for Economic Co-operation and Development (OECD).
Christian Danielsson joined the European Commission in 1995 as a Member of the Cabinet of Commissioner Anita Gradin. He held several positions in the Commission, including Deputy Head of Cabinet of Vice-President Verheugen and Director in DG Enlargement. From 2008 to 2010 Christian Danielsson was Permanent Representative for Sweden before he became Deputy Secretary-General of the European Commission in 2011. In 2013 he became Director-General for Enlargement and since 2015 he is Director-General for Neighbourhood and Enlargement Negotiations.
Before joining the Commission, he worked for the Swedish diplomatic service.
Christian Danielsson has graduated in Business Administration and Economics at the Stockholm School of Economics.
Mats Isaksson is Head of the Corporate Affairs division at the OECD. His responsibilities include corporate governance, state-owned enterprises, equity markets, company law, corporate finance and privatisation among others. Mr. Isaksson has extensive experience from working with both OECD and Partner countries and most recently served as international advisor to the government of Japan.
Mats Isaksson serves on the Advisory Board of the Centre for Global Markets and Corporate Ownership at Columbia University and is Senior Visiting Fellow at the Stockholm Centre for Commercial Law. He is a founding Director of the Swedish Corporate Governance Forum and a member of the European Corporate Governance Institute.
This webinar will be moderated by Anders Fogelström, President Cercle Suédois, Board member Swedish Chamber of Commerce in France and Swedish Chamber International.
Partners:
This is a collaboration between le Cercle Suédois, the Swedish Chamber och Commerce in France, the Swedish Chamber of Commerce for the UK, Swedish Swiss Chamber of Commerce, Swedish – Portuguese Chamber of Commerce, Swedish Chamber of Commerce for the Netherlands, Schwedische Handelskammer in Deutschland

View event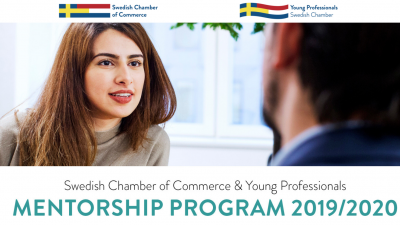 Time and venue yet to be confirmed.
Evaluation of the program and final reflections. Guest speaker from earlier Mentorship Program on what's next.
For more information about the Swedish Chamber of Commerce and Young Professionals Mentorship Program 2019-2020 please visit our even page:  https://swedishchamber.nl/event-series/mentorship-program/
The Mentorship Program is made possible by the Swedish Chamber of Commerce and Mercuri Urval sponsored by
Inter IKEA Systems and Handelsbanken.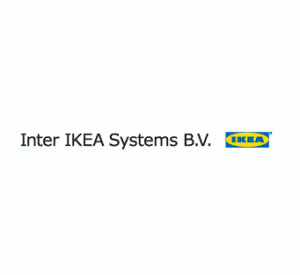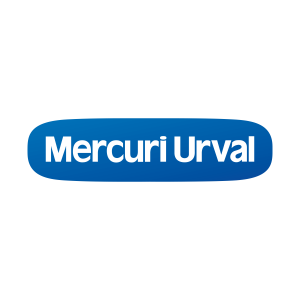 Photo by Melker Dahlstrand/Imagebank.sweden.se
View event