The Global Business Survey 2022
A considerable majority of Swedish companies operating overseas are profitable and more than half have their sights set on new investments. These are just two findings in the Global Business Climate Survey for this year, which captures the inside perspectives of Swedish decision-makers in 22 markets.  
More than 1,600 Swedish companies took part in this year's survey and shared first-hand insights into the success factors and challenges they face when doing business abroad.  
Overall, the consensus was clear: the business climate overseas is improving. 60 percent of companies believe that amplifying their Swedish identity benefits their performance abroad, and 40 per cent of companies say that customers consider environmental sustainability to a "high or very high degree" – up four points from last year.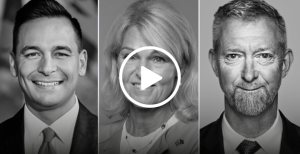 Global Analysis

Local Analysis

---
The Global Business Climate Survey 2021
The Global Business Climate Survey captures the current views and future expectations of Swedish companies and is a valuable source of information when doing business abroad. The survey builds on collected data from 1 ,400 company representatives in 22 markets worldwide in a joint collaboration between Business Sweden, Swedish Chambers International (SCI), local embassies, and consulates abroad. The survey provides a unique database of perspectives that allows companies to make a comparative analysis of different markets.
Global Analysis

The Business Climate Survey 2021 in the Netherlands
Team Sweden in the Netherlands (The Embassy of Sweden, the Swedish Chamber of Commerce, and Business Sweden) have conducted the first Business Climate Survey among Swedish Companies in the Netherlands, whose findings are presented in this report.
The results of the survey reflect the growing optimism felt across Europe. Swedish companies are planning to increase investment; they expect turnover to increase and seem to have managed the pandemic consequences fairly well. The report provides insights into the economic outlook, key facts about the Dutch market, and Swedish company performances in the Netherlands. Furthermore, the respondents of this survey are satisfied with the Dutch business climate, and the Swedish brand remains strong, symbolizing both innovation and sustainability.
This year, the Business Climate Survey has been conducted in over 20 countries worldwide. The Dutch report was presented on September 22, 2021. The Business Climate Survey is an important tool to map out the opportunities and challenges Swedish companies face when doing business abroad.
Local Analysis

---