Swedish Chamber of Commerce for The Netherlands
Promoting Swedish business and values in the Netherlands since 1960
By Members for Members

The Swedish Chamber of Commerce for the Netherlands is a dynamic Swedish-Dutch business platform, extending commercial relations between Sweden and the Netherlands and creating first-class business services. We are a nonprofit organisation with more than 60 years of experience, helping entrepreneurs and corporations of all sizes to establish, grow and develop their businesses.
Being one of the most active foreign Chambers in The Netherlands, we represent, inspire and promote our 200+ Members. In addition to arranging more than 40 events per year, we offer valuable training programs for personal and professional development, and provide relevant forums, meetings, and summits featuring renowned speakers and top officials.

WELCOME TO JOIN
We provide you with a dynamic platform to make new business contacts, build stronger networks and to keep updated on news and innovation within the Swedish-Dutch business community. Follow some of our member companies such as Volvo Cars, IKEA, Klarna, Storytel and Budbee and join our network.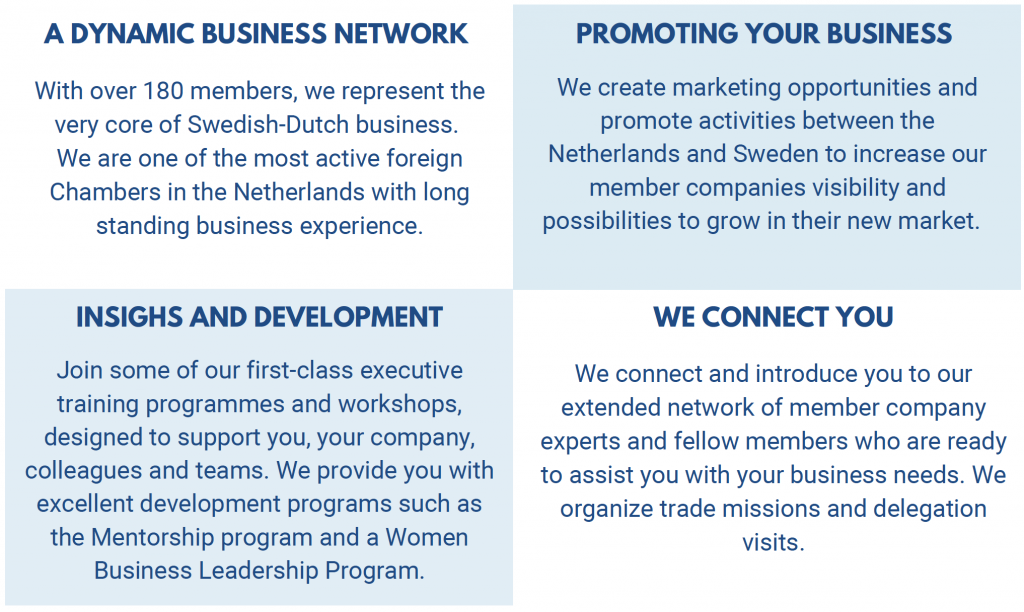 WHAT A MEMBERSHIP CAN DO FOR YOUR BUSINESS
ESTABLISH
Are you considering expansion in The Netherlands or Sweden? We provide access to the collective knowledge of our Members and connect you with our extended business network for business intelligence and support.
GROW
Are you in need of inspiration to accelerate your business to the next level? We facilitate growth by setting up business co-labs, establishing connections, and by providing mentorships and training programmes for growth.
DEVELOP
In collaboration with our Member companies and peers from our extended network, we offer training programmes for personal and professional development. Together with our forums, seminars and roundtables, they form an invaluable knowledge asset for you and your staff.
CONNECT
Do you need help expanding your network? We offer plenty of networking opportunities through our 40+ events per year, the Digital Newsletter, Social Media channels and through matchmaking and Member introductions. As a Member, you are also invited to host, sponsor or speak at our events.
---
Annual Membership Fee's 2023
Get in touch with us to discuss what membership could do for you. Or have you already made up your mind? Fill out the membership form below instead.
1-2 employee(s)             € 370 
3-50 employees             € 650
51-100 employees         € 820
>100 employees            € 910
Private Member             € 240 incl. VAT
For information about Patron Membership for more information please contact the office:
info@swedishchamber.nl or phone: 020 – 320 32 26
---
For more information welcome to contact info@swedishchamber.nl
---
Digital Application form Swedish Chamber of Commerce see below. For private members please write private members by number of employees.
---
Register as a member below!