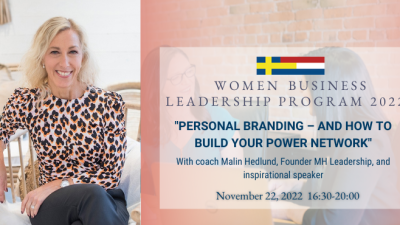 SEPTEMBER 22
16:30 – 20:00
This event is part of the Women Business Leadership Program 2022.
Coach: Malin Hedlund, MH Leadership
Inspirational Speaker: Carola Hoekstra, CEO of Stromma Netherlands
"Have a focus, Be genuine, Be authentic, Be ready to fail"
In this event, you will learn to be empowered and confident to take action to start with small "ant-steps" toward your goals of becoming the Leader and implementing the Leadership style that suits who you are. We will discuss how to build up your Power network and to be part of one.
The Swedish Chamber of Commerce can proudly present Carola Hoekstra, CEO of Stromma Netherlands as the Inspirational Speaker of this event.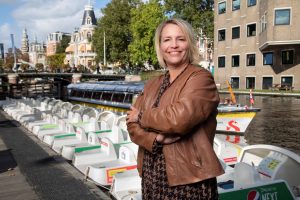 With over 20 years of experience in the hospitality business, Carola Hoekstra is since December 2019 CEO of Stromma Netherlands. With her experience in national and international operating companies, she has been leading the company through some challenging years due to the Coronavirus. With a strong drive and can-do mentality, she leads the business in Amsterdam where customer focus and optimized business processes play an important role.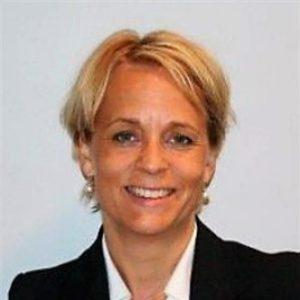 "Participating in the Women Business Leadership program, provided by Malin via the Swedish Chamber, has been a great help in my daily live, both private and business wise! It has provided me with tips & tricks to be better aware of why I do things the way you do them, and if needed how I might be able change/improve. The term "ant-steps" is one that often comes to my mind. I really recommend you to join a session!
If you are not able to do all four, one is more than not at all! But I'm sure if you go for one you will most likely want to join all sessions. I always leave these session with such a positive boosted feeling."
Pernilla Guitink-Svensson, Process Improvement Professional at ASML
The Swedish Chamber of Commerce Women Business Leadership Program is powered by:

View event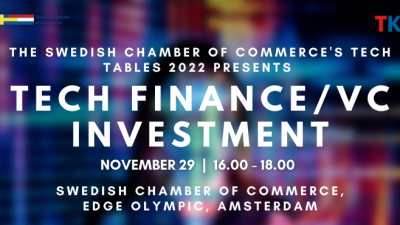 NOVEMBER 29, 2022
16.00-18.00
Swedish Chamber of Commerce, Edge Olympic, Amsterdam
TECH TABLES – TECH FINANCE/VC INVESTMENT
Funding is essential for the growth of startups and scaleups. It is what makes them able to compete on a global stage. What are the bottlenecks and challenges when finding (the right) investors and trying to accelerate growth as a start-up or scale-up?
Making the right investments and introducing the right technology is of the essence for any companies trying to stay innovative. With the ever-increasing ways of investing in technology and innovations, there is a larger need for companies to strategize their use of capital. How can this be done to boost growth and competitiveness?
In this webinar we bring together experts and stakeholders to explore the dynamic evolvements in Venture Capital, Technology and the various ways companies can become investment ready or boost their innovation through tech investments.
More information to be announced soon.
ABOUT SWEDISH CHAMBER OF COMMERCE TECH TABLES
The Swedish Chamber of Commerce's Tech Tables invites Swedish Chamber Members and leading experts, exciting entrepreneurs and challengers alongside passionate change makers from Sweden and the Netherlands to participate in the exciting discussions about the latest tech trends. How will technologies shape the future and what can we learn from each other?
THE TECH TABLES 2022 THEMES
Cyber Security |   March 17
Tech Finance/VC Investment | November 29
Women in Tech |  Sept 8
Tech for Good | Oct 11
The Swedish Chamber of Commerce Tech Table 2022 is supported by TK Tech.

View event