Back to overview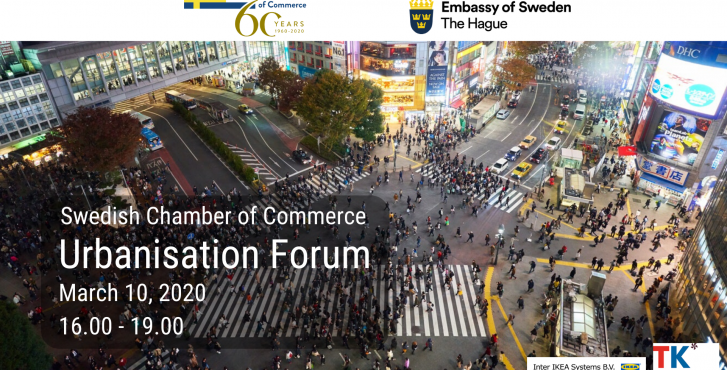 What does the future hold in store? The Swedish Chamber of Commerce Urbanisation Forum will be addressing the challenge of growing cities.
A collaboration between the Swedish Chamber of Commerce and the Embassy of Sweden.
The Urbanisation Forum is a new series of forums aimed at business people, politicians and other influential individuals who wish to share experiences, supply information on their respective areas and bring about high-value networking. The theme has a specific focus on the global challenge as a direct result of the physical growth of cities.
More than half of the world's population is living in urban areas and cities are set to be the future global economic engines. As the urban areas are rapidly expanding, there are several crucial challenges that must be addressed, creating a huge demand for energy solutions and infrastructure that will connect the city and make it more inclusive and sustainable. With our first Urbanisation Forum The Swedish Chamber of Commerce aims to discuss these issues and explore the challenges of today as well as the challenges of the future. With insights from Sweco, Volvo Bus, IKEA, SPACE10 and other experts from The Swedish Delegation for Circular Economy, we will explore how urbanisation challenges are to be solved by implementing the latest innovations and technologies.
The event will culminate in a networking session with drinks and canapés.
Draft Program
16.00
Registration
16.30
Start presentations intro by Rens Goudsmit, Moderator welcoming the delegation from the Swedish Government Circular economy delegation and invite Åsa Domeij to short introduce the purpose of the delegation and why they are visiting the NL
16.40
Jonas Carlehed, Sustainability Manager IKEA Sweden and Bas van de Poel, Creative Director Space 10, The future of living and solar-power homes
17.00
Speaker Eugene Grüter, CEO Sweco Nederland
17.15
Keynote Speaker Bas Dubois, General Manager Volvo Bus Benelux
17.30
Cornelia Dinca, lead at Amsterdam Smart City and Klas Gustafsson Tekniska verken Linköping
17.45
Wrap up by Moderator together with all speakers and audience in the form of a Panel discussion and Q & A
18.00
End of forum followed by networking and drinks
19.00
End of Program
Venue:
Swedish Chamber, Epicenter Amsterdam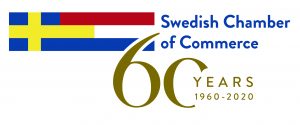 The Swedish Chamber of Commerce corially thank's our sponsors: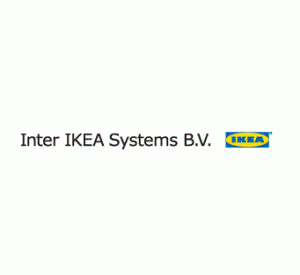 Venue
Swedish Chamber of Commerce
Epicenter Amsterdam
Fred. Roeskestraat 115,
1076 EE Amsterdam, Netherlands
Participation Fee
Members: 50 Euro p.p. excl. VAT
YP Members: 25.00 Euro p.p. excl. VAT
Non-Membes: 50.00 Euro p.p. excl VAT
Registration details
Digital registration below or send an email to events@swedishchamber.nl before March 1, 2020.
Please note that bookings are non-refundable, but at the discretion of the organiser, you can change the name of the person attending. For this, please contact events@swedishchamber.nl
Eugene Grüter, CEO Sweco Nederland
Sweco is Europe's market leading architecture and engineering consultancy. With over 16,000 colleagues, Sweco plans and designs sustainable communities and cities of the future. Sweco differentiates by being their customers' most approachable and committed partner, with recognized expertise. Eugene Grüter has been Sweco Nederland's CEO since September 2016 and believes strongly in this customer promise. "By living this customer promise, we become the best and have the most impact to make the world safer, healthier, more sustainable and more accessible to people. And that is what intrinsically drives us. A sound profitable growth is the logical result."
Cornelia Dinca, Delegations Lead for Amsterdam Smart City, the public-private partnership and community platform for a future-proof Amsterdam Metropolitan Area.
In her role, Cornelia connects international delegations to smart city experts and projects, helping transfer Amsterdam's knowledge and experience as a smart city internationally. Cornelia is also the founder of Sustainable Amsterdam, a boutique consultancy specialized in sharing Amsterdam-based approaches and innovations for sustainable urban development. Cornelia holds an MSc in Urban and Regional Planning from the University of Amsterdam and a BSc in Chemical Engineering from the University of Calgary. Previously Cornelia worked on energy, climate change and urbanism projects in Canada and Germany.
Bas Dubois, Managing Director Benelux at Volvo Bus Netherlands, Belgium and Sweden
Since 1992, Bas is working with the Volvo Group in various positions in The Netherlands, Belgium and Sweden.
Bas van de Poel, Creative Director at research and design lab SPACE10
Together with a team of architects, engineers, technologists and designers Bas works on creating better and more sustainable ways of living.
Jonas Carlehed, Sustainability Manager at IKEA Svenska Försäljnings AB
The Swedish Delegation for Circular Economy
Moderator, Rens Goudsmit, Attorney at TK Advocaten en Notarissen
Rens is an experienced corporate litigator in the field of contracting, IT, Privacy and (corporate) governance and head of TK Tech in Amsterdam. TK Tech is specialized in all legal aspects of innovative technologies.
Register for this event - Non-members
Register for this event - Members
Thank you for registering for this event. Below you can let us know if you want to bring a guest, and if so, how many.