Back to overview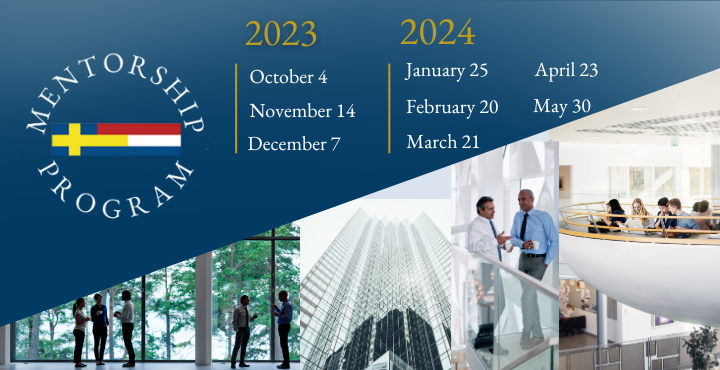 FUTURE LEADERSHIP
Date: October 4, 2023
Time: 18.30 – 21.00
Venue: Swedish Chamber of  Commerce
Edge Olympic
Fred.Roeskestraat 115
1076 EE Amsterdam
PROGRAM
The Swedish Chamber of Commerce is very pleased to welcome the selected Mentors and Mentees to the first session of our Mentorship Program 2023-2024.
– At this live event, we will introduce the Mentorship Program 2023-2024 the setup, and the themes for the Live Meet Ups.
– The Mentors and Mentees will introduce themselves to each other followed by an introduction exercise.
– In two Breakout sessions, we will have separate presentations for Mentors and Mentees together with earlier Mentors and Mentees where we will discuss the expectations of a Mentor and a Mentee and how to get out the most of the Program.
– Break
– Conclusion of the Breakout Sessions
– The Coach of the Swedish Chamber of Commerce Hendrik Jan Guiitink will present the Mentorship Program Pairs 2023-2024.
–  Mentor/Mentee meeting.
– End of Program
About the Swedish Chamber Mentorship Programme
The Swedish Chamber of Commerce and Young Professionals Mentorship Program was launched in October 2012. Since then, more than 100 Young Professionals of the Swedish Chamber have followed the program and benefited for their future personal and professional growth. The many Mentors have benefited to meet the new generation leaders of the future and to learn more about their insights and values.
The Mentorship Program is made possible by the Swedish Chamber of Commerce in collaboration with AIMS International Netherlands B.V. , member of AIMS International.
Venue
Swedish Chamber of Commerce
Edge Olympic
Fred. Roeskestraat 115
1076 EE Amsterdam
Participation Fee
Participants fee:
The participation fee for the Mentorship Program 2023/2024 is 200 euros p.p. excl VAT for Mentees and Mentors.
Scholarship
If you are a student, you have the possibility to apply for a scholarship worth 50% of the participation fee, and you will be able to participate for 100 Euros*
Price Company Sponsor: 500 Euro
The Participation Fee is non-refundable.
Registration details
Application
Please find the application form below.
Send your application to yp@swedishchamber.nl.
The deadline for applying is September 
Register for this event - Non-members
Register for this event - Members
Thank you for registering for this event. Below you can let us know if you want to bring a guest, and if so, how many.