Back to overview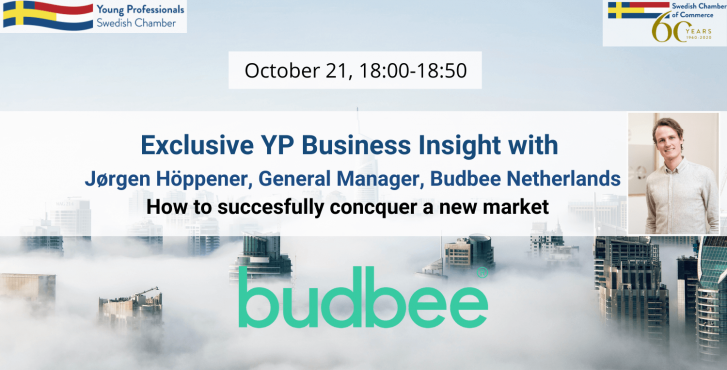 Young Professionals of the Swedish Chamber invites exclusively the Young Professionals members to our first YP Business Insight with Jørgen Höppener, General Manager at Budbee, a fast growing, innovative Swedish log-tech company.
Date:
October 21, 2020
Time:
18.00 – 19.00
This is a Zoom webinar
This Exclusive Business Insight will start with an interview about Budbee's journey from the Nordics to the Netherlands, and how Jørgen built his team in the Netherlands and the strategies they used to successfully enter this new market. After the interview we open up for questions and discussions from all the participants.
So if you're interested in knowing more about international expansion, how to build a successful team and learn from Budbee's strategy then signup now!
About Budbee
Budbee, a Swedish log-tech company, arrived 2019 to the Netherlands as their first market outside of the Nordics. Since their launch in 2015 in Sweden Budbee has delivered an ambitious growth and attracted strong investments backing. Budbee's arrival in the Netherlands shows its strong positioning as expansion market for Swedish companies, and especially in the field of e-commerce and logistics. By setting up their office, team and launching with NL customers, Budbee has shown they are capable of making a strong and successful market entry.
Budbee has an innovative approach to last mile logistics, by making sure that the consumer has flexibility and control over their delivery and assuring that this can be done in the most sustainable way to minimize distances travelled and focus on CO2 reduction. This innovative Log-Tech company, the next generation companies to follow the big Fintech movement, received the Swedish Chamber Entrepreneurs Award 2019.
We are looking forward to hear more from Jørgen and how he took Budbee to a whole new market.
We also invite the Young Professionals from the Finnish Dutch Chamber of Commerce to join this event for free. Just sign up as a guest.
In partnership with:

Participation Fee
Free of charge for SweCham and Finnish Chamber YPs and one guest of yours.
5 EUR for non-members who's not a +1 for a YP member.
Registration details
After registration you will receive a link to Zoom a few days before the event.
Jørgen Höppener, General Manager at Budbee
"You couldn't tell from my name but I was born and raised in the Netherlands and lived for a short while in Italy in my youth. I was 30 years old and a big fan of football. After finishing Econometrics in Rotterdam, I went into strategy consulting, because I wanted to work with analytics and business. Being in the consultancy business I worked with many different companies ranging from very large corporates to smaller startups and scaleups in many different sectors, such as e-commerce, retail, transport and insurance. That has given me the leverage to be able to do this job that I am doing today at Budbee. I moved to Budbee because it is a great challenge to actually build something from scratch. We offer a great product that I really believe is needed on the market. In the short time that we have been on the Dutch market I have been able to build up and scale my own team."
The Swedish Chamber of Commerce would like to thank all participants for contributing to the success of the Swedish Chamber Patron Dinner on November 22, 2016. We cordially thank H.E. Ambassador of Sweden and Honorary Chairman of the Swedish Chamber of Commerce Mr. Per Holmström for hosting the Patron Dinner 2016 and Mr. Jeroen van der Veer, ING Keynote speaker and Honorary Guest, for sharing his experiences and introducing the Round Table discussions.
View event
Register for this event - Non-members
Register for this event - Members
Thank you for registering for this event. Below you can let us know if you want to bring a guest, and if so, how many.