Back to overview
Thank you to all participants of the Green Transition presentations by Sweco and Husqvarna at Sweco's Headquarters in de Bilt on February 2, 2023, where experts from Sweco and Husqvarna shared insights of their sustainable strategies, Greening the City and how the society can be transformed to become greener together.
The Swedish Chamber of Commerce would like to extend a warm thank you to Eugene Grüter, CEO Sweco, as well as Patron Member Sweco for hosting this well-organized event at their beautiful office and for offering excellent networking opportunities at the networking after the presentations. We also would like to thank the speakers, Richard Koops, Bussines Director Circularity Sweco., Joeri Meliefste, Head Analyst GSC., Jonas Willaredt, Sustainability Manager Husqvarna and Lodewijk Hoekstra, Founder NL Greenlabel, TV-Gardener and Sustainability Inspirator for their inspiring contributions.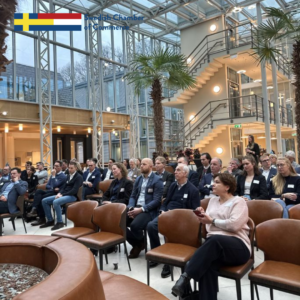 Click here to find out how green your city is.
Click here for Event Photos from the Green Transition event