Back to overview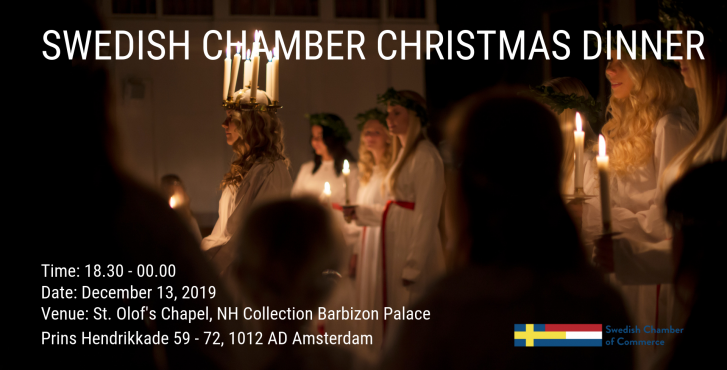 Following the high poularity of earlier years, the Swedish Chamber of Commerce is looking forward to already welcoming you to the Swedish Chamber of Commerce Christmas Dinner & Dance 2019! Make sure to Save the Date, as it will once again  mark the highlight of the season.
The Chamber's Christmas Dinner & Dance has a long history dating back to the 1960s. Today, it brings together business people from the Dutch-Swedish community and offers fantastic network opportunities. Traditionally the Swedish Chamber Christmans Dinner features a amazing traditional Swedish "Julbord", a first-class Lucia procession, this year from Lund's university, entertainment, great company, a fantastic Christmas Raffle and an filled Christmas Gifts Goodie Bag! It will, without a doubt, be an evening to remember!
Program
Swedish Christmas Julbord
St. Lucia Procession
Entertainment
Christmas Gift Raffle
Dancing
Venue
St. Olof's Chapel, NH Collection Barbizon Palace
Prins Hendrikkade 59 - 72, 1012 AD Amsterdam
Participation Fee
Early Bird Offer!
Individual Tickets: Euro 180 normal price Euro 190
VIP Company Table of 8: Euro 1650 normal price 1800
VIP Company Table of 10: Euro 2020 normal price 2200
Non-member fee Individual Tickets: Euro 300
Please note that VIP Company Tables can be booked by members only.
All prices excl. VAT
PRICE INCLUDING:
- Reception with drinks
- Swedish Christmas Julbord
- Wine and Snapps
- Lucia Procession and entertainment
- Christmas Gifts Goodie Bag
- a 20% non refundable registration fee
VIP TABLE INCLUDES IN ADDITION TO ABOVE:
Your Company Logo:
-on the table
-on the event website
-in the program
-on the event roll-up
Registration details
Please register to events@swedishchamber.nl before September 2, 2019 for EARLY BIRD OFFER
Terms and conditions:
Refund except 20% non refundable registration fee possible until October 31, 2019
No Refund after November 1, 2019 but at the discretion of the organiser, you can change the name of the person(s) attending by contacting events@swedishchamber.nl
Register for this event - Non-members
Register for this event - Members
Thank you for registering for this event. Below you can let us know if you want to bring a guest, and if so, how many.