Back to overview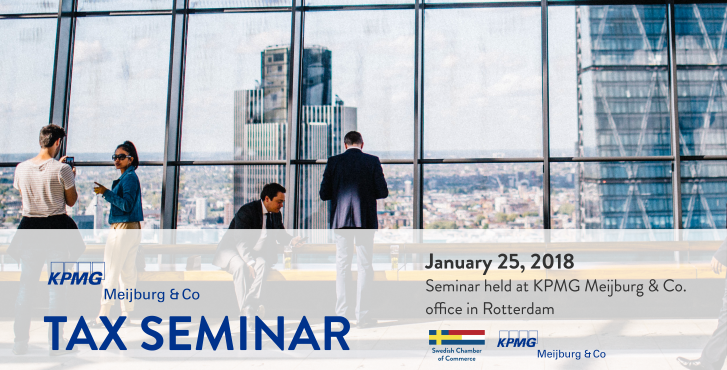 On Thursday 25 January 2018, KPMG Meijburg will host a tax seminar for members of the Swedish Chamber of Commerce and Danish Dutch Business Club. We will explain and discuss the Tax Plan 2018 and the consequences for the business climate in the Netherlands as a result of the of the government agreement. We will also briefly discuss the current public discussion and the (mis)understanding of the Dutch ruling practice. After the meeting there will be opportunity to network while drinks and snacks will be served. Welcome!

"Update from a tax paradise"
Speakers: drs. H.L.P.E. (Harrie) van Duin and mr. S. (Sandra) Kortekaas
Date: 25 January
Time: 16.00 – 18.30
Venue: KPMG Meijburg & Co., Weena 654, 3012 CN  Rotterdam
Venue
KPMG Meijburg & Co., Weena 654, 3012 CN  Rotterdam
mr. S. (Sandra) Kortekaas
Specialismen Investeringsfaciliteiten (willekeurige afschrijving, milieu-investeringsaftrek en energie-investeringsaftrek) Verliescompensatie Duurzame energie Opleidingen & lidmaatschappen Lid van de Nederlandse orde van Belastingadviseurs (NOB) Beroepsopleiding, Stichting Opleiding Belastingadviseurs (SOB) Fiscaal recht, Universiteit Leiden
drs. H.L.P.E. (Harrie) van Duin
Specialismen Scheepvaart IJsland Opleidingen & lidmaatschappen Lid van de Nederlandse Orde van Belastingadviseurs (NOB) Europese Fiscale Studies, Erasmus Universiteit Rotterdam Fiscale economie, Universiteit van Tilburg

About the company
The "DNA" of Meijburg & Co
Taxation is an everyday phenomenon. Tax affects everybody, whether corporate income tax, personal income tax, VAT, customs duties or other taxes. The Dutch Revenue's slogan is "We cannot make it more fun, but we can make it simpler". Tax legislation nevertheless remains very complex and, without the correct tax advice, you could be paying too much tax or encounter difficulties in dealing with the authorities and other stakeholders. It is also possible that you are not fully benefiting from savings opportunities. That is why it is important to have a committed tax advisor to provide you with high-quality advice. By engaging that kind of advisor from Meijburg & Co, taxation could even start to become fun!
What does Meijburg & Co have to offer?
Our clients value our integrity and commitment. That is secured in both our work method and our business culture. Because every company is different and each tax issue requires a specific approach, Meijburg & Co always provides made-to-measure advice. And since service is all about people and good chemistry is the start of a successful relationship, we select a team that best suits our client. Our advisors are proactive and client driven, and are top tax experts. Meijburg & Co is an active participant in domestic and international government networks, employers' associations, universities and professional bodies; we stay up to date and participate in developments in our areas of expertise. We are guided by facts and provide reliable and objective top-quality tax advice. We assume responsibility for the quality of our services, providing true value for money.
The Swedish Chamber of Commerce would like to thank all participants for contributing to the success of the Swedish Chamber Patron Dinner on November 22, 2016. We cordially thank H.E. Ambassador of Sweden and Honorary Chairman of the Swedish Chamber of Commerce Mr. Per Holmström for hosting the Patron Dinner 2016 and Mr. Jeroen van der Veer, ING Keynote speaker and Honorary Guest, for sharing his experiences and introducing the Round Table discussions.
View event
Register for this event - Non-members
Register for this event - Members
Thank you for registering for this event. Below you can let us know if you want to bring a guest, and if so, how many.