Back to overview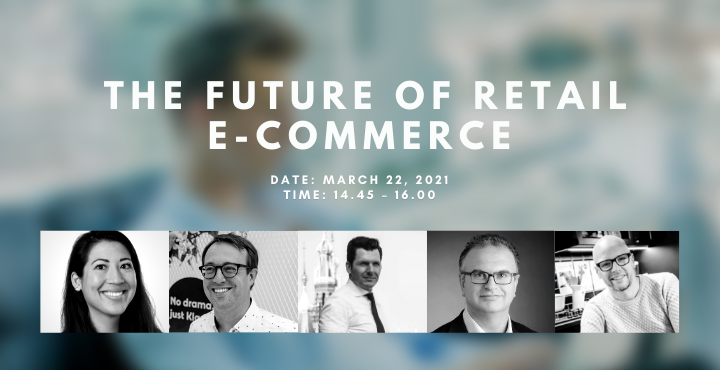 Date: March 22, 2021
Time: 14.45 – 16.00
The Future of Retail E-Commerce
"The word Retail will not exist in a few years from now" said Paul Martin yesterday during the Swedish Chamber webinar on The Future of Retail E-Commerce.  In collaboration with Chambre de Commerce Suedoise en France and Swedish Chamber of Commerce in Latvia key speakers were sharing their insights on how retail will change in the coming years. The latest aspects about what the future of retail e-commerce will entail and the role of physical stores versus retail e-commerce. 
Will retail become obsolete in a few years and transit into consumer commerce and has 'home become the new hub'? How to move forward and also what should companies be prepared for when new VAT rules start to apply in July 2021? The webinar has been recorded and the replay will soon be available on our website. The Swedish Chamber of Commerce would like to thank our accomplished speakers Paul Martin, KPMG, Paul de Jong, IKEA Nederland, Wilko Klaassen, Klarna and Elène Siem,  KPMG and our inspiring moderator Mark Ogertschnig for sharing their expertise and experience. 
We thank all participants for joining us at this interesting and inspiring webinar and welcome anyone to join us again for our future webinars. Sign up to our digital newsletter, like our social media and visit our website  for future webinars and upcoming events."
This webinar was organized by the Swedish Chamber of Commerce for the Netherlands in collaboration with Chambre de Commerce Suédoise en France and
Swedish Chamber of Commerce in Latvia.

Participation Fee
This webinar is offered free of charge.
Registration details
If you are a member of the Chambre de Commerce Suédoise en France, please register as Guest and add "CCSF" after "Name of Company".
Paul Martin,
Chair Global Retail Steering Group & Head of Retail UK KPMG in the UK. Paul is KPMG's UK Head of Retail. He is an experienced international business professional with over 15 years of experience in consulting, market research and operational roles focussing on the retail and consumer goods sectors. Prior to Boxwood, Paul spent over a decade working in leading macro-economic, retail and consumer research companies: the Economist Intelligence Unit and Planet Retail. At Planet Retail he had overall P&L responsibility and led the business as Managing Director, increasing revenues threefold between 2007 and 2012. Paul has worked with many of the world's leading retail, consumer goods and professional services companies. He specializes in understanding global macro-economic, industry and consumer trends and translating these into actionable strategies for the programs he works with.
Paul de Jong, CEO & CSO bij IKEA Nederland B.V.
Paul leads the total Dutch IKEA business and the nearly 6,000 employees. His most important tasks are to steer the worldwide IKEA transformation in the Netherlands in the right direction and to ensure the further growth of IKEA Netherlands. An important focus is on ensuring online shopping convenience for the customer, so that even more people can go to IKEA wherever and whenever they want.
Wilko Klaassen, VP Commercial Belgium / Netherlands / France (GM BeNeFra) at Klarna
We are growing the Klarna presence in NL/BE, with products like: Pay Later, and Pay Now, working with leading retailers to make the shopping experience, smooother, and more innovative. More products are being added in the near future. I am heading the BeNe Klarna business, and responsible to grow the Belgium and Netherlands region and accountable for: commercial, product, marketing and financial performance.
Elène Siem, Tax Expert KPMG Meijburg & Co
Elène Siem is an experienced tax lawyer in the area of indirect tax, particularly VAT. Elène assists organizations with their VAT implementation and optimization. The market experience of Elène includes international trade, offshore, retail and non profit.
Mark Ogertschnig, Lifehackers Agency
Mark is a seasoned Marketing, Communications and Public Relations expert and has been active in various corporate roles. After graduating his MBA in Amsterdam, he learned to generate free PR exposure for brands like Dell Computers, Volkswagen, Audi, Ikea and many more. He currently runs his Amsterdam based Digital Marketing & PR Agency, is active as a 1:1 Publicity Consultant and trains people on generating Publicity, Public Relations and Press Attention.
The Swedish Chamber of Commerce would like to thank all participants for contributing to the success of the Swedish Chamber Patron Dinner on November 22, 2016. We cordially thank H.E. Ambassador of Sweden and Honorary Chairman of the Swedish Chamber of Commerce Mr. Per Holmström for hosting the Patron Dinner 2016 and Mr. Jeroen van der Veer, ING Keynote speaker and Honorary Guest, for sharing his experiences and introducing the Round Table discussions.
View event
Register for this event - Non-members
Register for this event - Members
Thank you for registering for this event. Below you can let us know if you want to bring a guest, and if so, how many.