Back to overview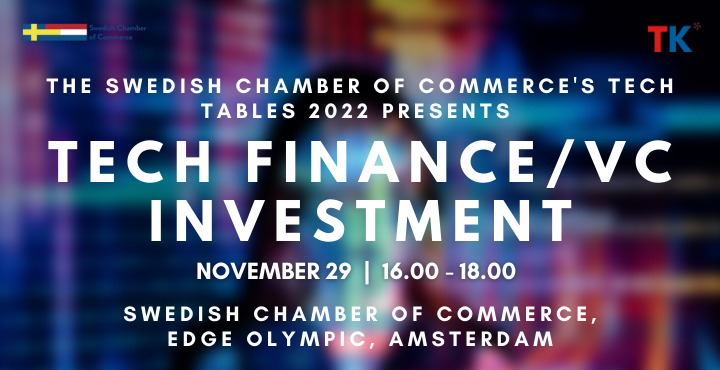 NOVEMBER 29, 2022
16.00-18.00
Swedish Chamber of Commerce, Edge Olympic, Amsterdam
TECH TABLES – TECH FINANCE/VC INVESTMENT
Funding is essential for the growth of startups and scaleups. It is what makes them able to compete on a global stage. What are the bottlenecks and challenges when finding (the right) investors and trying to accelerate growth as a start-up or scale-up?
Making the right investments and introducing the right technology is of the essence for any companies trying to stay innovative. With the ever-increasing ways of investing in technology and innovations, there is a larger need for companies to strategize their use of capital. How can this be done to boost growth and competitiveness?
In this Tech Table we bring together experts and stakeholders to explore the dynamic evolvements in Venture Capital, Technology and the various ways companies can become investment ready or boost their innovation through tech investments.
More information to be announced soon.
ABOUT SWEDISH CHAMBER OF COMMERCE TECH TABLES
The Swedish Chamber of Commerce's Tech Tables invites Swedish Chamber Members and leading experts, exciting entrepreneurs and challengers alongside passionate change makers from Sweden and the Netherlands to participate in the exciting discussions about the latest tech trends. How will technologies shape the future and what can we learn from each other?
THE TECH TABLES 2022 THEMES
Cyber Security |   March 17
Tech Finance/VC Investment | November 29
Women in Tech |  Sept 8
Tech for Good | Oct 11
The Swedish Chamber of Commerce Tech Table 2022 is supported by TK Tech.

Venue
Swedish Chamber of Commerce
Fred. Roesekestraat 115
1076 EE Amsterdam
Participation Fee
Members of the Swedish Chamber of Commerce: Euro 25,00 excl. VAT
Yp Members of the Swedish Chamber of Commerce: Euro 12.50 excl. VAT
Non-Members: Euro 35.00
Registration details
Welcome to register digitally by clicking on Member or Guests below. After registration you will receive a confirmation and an invoice for your participation.
Register for this event - Non-members
Register for this event - Members
Thank you for registering for this event. Below you can let us know if you want to bring a guest, and if so, how many.