Back to overview
On April 20, 2023, the Swedish Chamber of Commerce for the Netherlands held its 63rd Annual General Meeting at Hilton Hotel Amsterdam. At this AGM Jan Terlouw, Country Manager Saab Nederland was elected new as Board Member.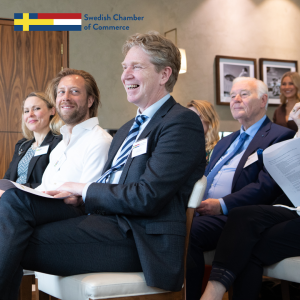 "Being a member and patron of the Swedish Chamber of Commerce in The Netherlands has proven to be very useful for Saab. Together with my colleagues we have been able to learn and contribute at the same time and we have extended our Swedish-Dutch network significantly. The focus of the Chamber on innovation, sustainability, diversity and inclusion is well-aligned with the mission of our company, which is to keep people and societies safe. It is therefore with great pleasure that I have accepted the membership of the board. My intention is to contribute where possible, in particular in the branding committee and the new sustainability committee." says Jan Terlouw.
"We are very proud to welcome Jan Terlouw, Saab Nederland as new Board Member. 
Jan is already a very active and valued Patron Member of the Swedish Chamber, offering great support to the Chambers activities and as a member of the Branding Committee. Jan's expertise on security, tech, innovation and sustainability will strengthen our position on the Chambers focus areas and we are very happy to welcome Jan onboard," says Johan Uhlin, Managing Director Scania Production Zwolle B.V. and Chairman of the Swedish Chamber of Commerce for the Netherlands
At the Annual General Meeting the following Board Members were elected for a second period:
Evert Flores, Ericsson
Wilko Klaassen, Klarna
Johan Uhlin, Scania

The Swedish Chamber of Commerce is very honored and pleased to continue the collaboration with our esteemed Board Members, for the coming four years.
At the Annual General Meeting for 2022 there were no Board Members leaving.