Back to overview
SAVE THE DATE for the Swedish Chamber of Commerce Mentorship Program 2022-2023.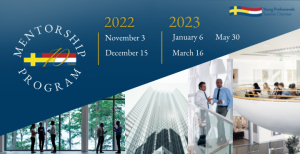 The Swedish Chamber of Commerce Mentorship Program was launched in October 2012. Since then, more than 100 Young Professionals of the Swedish Chamber have followed the program and benefited from their future personal and professional growth. The many Mentors have benefited to meet the new generation leaders of the future and learning more about their insights and values.
The Swedish Chamber of Commerce Young Professionals Mentorship Program is an 7-month program consisting of 5 mandatory Seminars and workshops covering topics as leadership, digitalization, business culture, personal development and mindfulness and recovery. The sessions are inspired and supported by senior business professionals from across all fields and sectors within the Swedish-Dutch business community. It strives to provide participants with the opportunity to grow in their careers and to enrich their personal developments by exchanging experiences, views, and knowledge. By using the Chamber's extensive network of international business leaders, the program offers Young Professionals a unique Mentor experience under the supervision of The Swedish Chamber of Commerce Mentorship Program Program Manager Henrik Jan Guitink, Managing Partner of AIMS International Netherlands B.V.
For more information, follow the link: https://bit.ly/2JIW5pn
#mentorshipprogram #mentee #mentor #nextgeneration
#leadership #swedishcham