Back to overview
On May 22, 2023, the Swedish Chamber hosted its third Tech Table 2023 – Fintech at Klarna Amsterdam.
The Swedish Chamber of Commerce would like to give a warm thank you to our fantastic speakers: Näva von Rosen, Head of Expansion at Klarna; Damien Perillat, Chief Commercial Officer (CCO) of Billie; and Anna Blyablina, Co-founder and Chairwoman of the Board at Sthlm Fintech Week for their engaged presentations and for sharing their experiences at the Swedish Chamber Tech Table – Fintech moderated by Lex Keukens, Attorney at Law/Partner at TK Tech. We would also like to thank Wilko Klaassen, Global Klarna Open Banking & Bank Transfer Domain Lead and Managing Director (CEO) Sofort., for the pleasant hosting of the event and for providing excellent network opportunities with drinks and snacks after the presentations.
Finally, most importantly, we want to give a big thank you to all the attendees for joining us and contributing to the success of the event.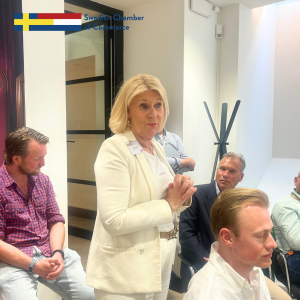 For more event pictures, visit click here.