Back to overview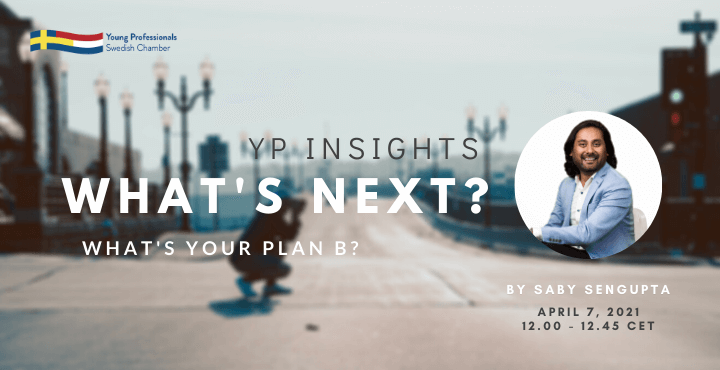 When: April 7, 2021
Time: 12.00 – 12.45 CET
The Swedish Chamber would like to thank all YP-Members and Guests for attending The Swedish Chamber Young Professional webinar: What's Next? The Young Professionals of the Swedish Chamber would like to thank Saby Sengupta for sharing his insights and experience in this inspiring Lunch Talk.
Whats next?
Whats your plan B?
Changing times need us to be future-ready at all times, as companies and as individuals. So, what should we do when adversity creeps into our perfect little world? (hits you in the face?)
One of the big reasons why people often do not change jobs where they are unhappy is because they do not know what to do next. It is an important issue, if you do not change your job, you may be stuck in a position that you hate and is not progressive. In this talk, Sabyasachi Sengupta will share a few steps that one can opt for when you are facing a similar situation and how you can make a career transition.
The "B" in Plan B stands for Backup. Plan B is to make yourself ready to face the unforeseen crisis head-on. This book will help you create a backup plan, so when the tough time arrives, you'll be prepared and able to steer yourself across the perils of adversity.
Saby mesmerizes his audience with three Es, entertainment, enlightenment, and empowerment with a to-do. As a speaker, he will make you laugh, raise thoughts to ponder, and sink in key messages to take home.
Saby Sengupta
Sabyasachi Sengupta is a reputed TEDx speaker, European Champion in public speaking and author. He started his career as a graduate from UvA at Lehman Brothers just before the financial crisis in 2009. Today with 11 years' experience of the banking industry he works at ABN AMRO as a Business Developer. During the event we will hear about his story, as well a talk about ''Whats Next?'' a talk about adversities in working life. Sabyasachi Sengupta is a well published figure in the Media, appearing in the Het Financieele Dagblad and De Telegraaf amoung other newspapers.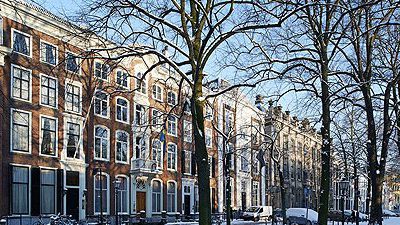 The Swedish Chamber of Commerce would like to thank all participants for contributing to the success of the Swedish Chamber Patron Dinner on November 22, 2016. We cordially thank H.E. Ambassador of Sweden and Honorary Chairman of the Swedish Chamber of Commerce Mr. Per Holmström for hosting the Patron Dinner 2016 and Mr. Jeroen van der Veer, ING Keynote speaker and Honorary Guest, for sharing his experiences and introducing the Round Table discussions.
View event
Register for this event - Non-members
Register for this event - Members
Thank you for registering for this event. Below you can let us know if you want to bring a guest, and if so, how many.