Back to overview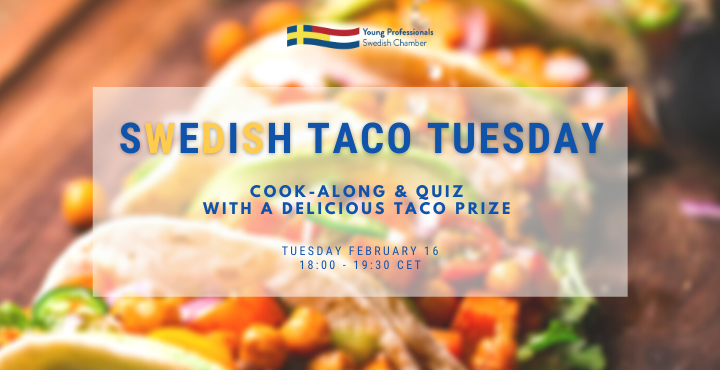 When: Tuesday February 16, 2021
Time: 18.00 – 19.30
Where: Zoom webinar
The Swedish practice of "fredagsmys", or cosy Friday, has become something of a national treasure in Sweden since the early 90ths. A respectable cosy Friday is made up of a number of crucial features: Pre-requisites include a comfy sofa, fluffy clothes, friends and family, board games, and something good to watch on TV. And then there's the food: crisps, pick'n'mix, cheese puffs, pizza, and last but not least, the all-important tacos! Nobody knows exactly how tacos became the national dish of Sweden, but the fact remains that Swedes and Norwegians eat more tacos than any other Europeans.
On February 16, 2021 we welcome you to join the Young Professionals of the Swedish Chamber in the Netherlands for a fun cook-along followed by taco inspired quiz with a delicious prize sponsored by Santa Maria. Our hosts Gustaf & Benjamin and Jennifer& Hanna will arrange the cook-along in their kitchens and you are welcome to join online and to cook your own favorite taco! Perhaps you will event share your favorite recipe?
In Sweden, tacos are traditionally made using pre-packed taco kits from Santa Maria, even though the conventional filling of heavily spiced ground beef is increasingly being replaced with fish and veggie options.
But a taco night is not just pure joy. Ever since its entry to the list of favorite dishes in Sweden, tacos have caused wild debates about what topping should be on a taco putting the "Fredagsmys" at risk…
One of our hosts are not an exception.
"A tacos without corn is like Amsterdam without canals, totally useless" – Benjamin 
Do you have any musts for you taco? Share them during our cook-along!
TACO QUIZ!
We will end Taco Tuesday with a fun taco-inspired quiz with a great Taco Kit Prize sponsored by Santa Maria.
Here are a few recipes to get inspired:
Chicken Quesadillas
https://www.santamariaworld.com/uk/recipes/chicken-quesadillas2/
Veggie Mango Fajita
https://www.santamariaworld.com/uk/recipes/veggie-mango-fajita/
Shop your favorite ingredients and tune in for YP Taco cook-along on Tuesday February 16!
Registration Fee: Free of charge
Taco Tuesday with YP is sponsored by:
The Swedish Chamber of Commerce would like to thank all participants for contributing to the success of the Swedish Chamber Patron Dinner on November 22, 2016. We cordially thank H.E. Ambassador of Sweden and Honorary Chairman of the Swedish Chamber of Commerce Mr. Per Holmström for hosting the Patron Dinner 2016 and Mr. Jeroen van der Veer, ING Keynote speaker and Honorary Guest, for sharing his experiences and introducing the Round Table discussions.
View event
Register for this event - Non-members
Register for this event - Members
Thank you for registering for this event. Below you can let us know if you want to bring a guest, and if so, how many.