Back to overview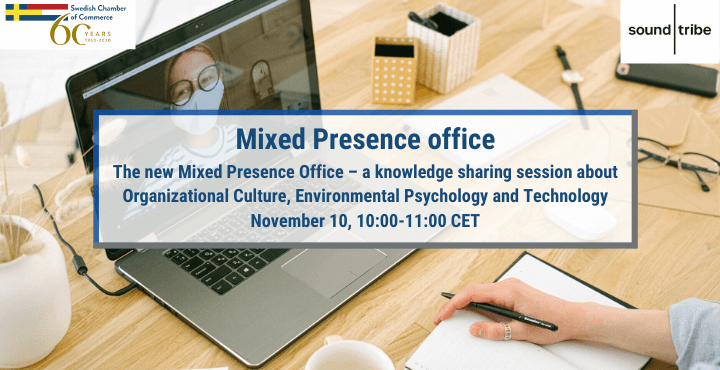 The Swedish Chamber of Commerce in the Netherlands would like to thank all participants for attending The Swedish Chamber of Commerce Webinar Mixed Presence Office, the office of the future – a knowledge sharing session around Organizational Culture, Environmental Psychology and Technology in collaboration with our member company SoundTribe .
This knowledge sharing webinar is part of our strategy of organizing inspiring webinars "for members by members"
In this webinar we shared the insights of Workwire,  AVEX and Soundtribe about the office of the future and how to tackle the challenges facing all of us in terms of performance but not at least social connections and how to keep organizations alive.  Ester Roelofs, Workwire presented a newly conducted survey among people and organizations working both from home and in a mixed home/office situation. Although many reported that working in a mixed presence office situation delivers a lot of challenges most people still thought that the mixed presence office is here to stay.  In this one-hour webinar we received more knowledge about how innovation, technology and environmental psychology can help to solve a lot of the issues of mix presence office offering solutions where everyone can thrive and perform.
We would like to thank Swedish Chamber member Frans Davidsson, SoundTribe, Tim Merkenhof and Esther Roelofs, Workwire and Erwin Schmitz AVEX for their inspiring presentation and we would like to thank all members and guests who joined us from our partner Chambers in the Netherlands, UK, France, Switzerland and Germany.

The Swedish Chamber of Commerce welcomes you to a webinar
Mixed Presence Office, the office of the future
– a knowledge sharing session around Organizational Culture, Environmental Psychology and Technology in collaboration with our member SoundTribe
as part of our webinar series "for members by members"
Almost 50% of employees opt for permanent home working days and fixed office days in the future were employees come to the office for knowledge sharing, cooperation and meetings and other tasks are carried out from home. How do you as an organization stand prepared to support this new normal? Are you equipped with the right environment and technology to make your colleagues thrive and perform? The Mixed Presence Office concept gives you a fresh insight on how to tackle this from a People, Environment and Technology perspective. We believe this will be the game changer for performance and innovation keeping the social connections within the organizations alive.
PROGRAM:
– Introduction
– Mixed Presence Office- Workplace approach intro
– Audiovisual technology fit for purpose
– Productivity Senses and Environmental Psychology
– Interdisciplinary strategy and implementation
– Wrap up and Q&A
This webinar is intended to address Managers in general and HR, IT & FM in specific.
The event is featured by the Swedish Chamber of Commerce in the Netherlands in  partnership with The Swedish Swiss Chamber of Commerce, Schwedische Handelskammer in der Bundesrepublik Deutschland, The Swedish Chamber of Commerce for the UK, The Danish Dutch Chamber of Commerce, The Finnish Dutch Chamber of Commerce and the Norwegian Dutch Chamber of Commerce.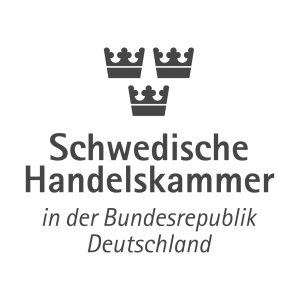 We make sound work by creating and implementing user-based sound environments. Sound affects us constantly. Where we work, live, learn or heal. It affects our health, wellbeing, mood and our emotions. SoundTribe are passionate about designing user-based sound environments that works for you. We will help you connect the dots from Concept to Design to Solutions
Participation Fee
This knowledge sharing webinar is offered free of charge registration is, however, compulsory.
Registration details
Digital registration for Swedish Chamber and YP members by clicking on registration members below. Non-members welcome to register digitally by clicking on Guest below or send an email to events@swedishchamber.nl before November 6, 2020.
By registration you will receive a confirmation.
FRANS DAVIDSSON, CHIEF OF SOUND, SOUNDTRIBE
Frans is a civil engineer with an interdisciplinary and communicative approach. Frans has been working with market development internationally for over a decade within the field of Sound and Environmental Psychology. He is with his long experience an authority within the field of sound and its effect on people and organizations. Bridging disciplines to make sound work is his specialty, by communicating on an understandable language for the many parties involved from decisions makers to end-users. He has been organizing research in cooperation with Stress Research Institute in Stockholm, member of the Activity Based Council in Sweden, IFMA, and Green Building Councils to name a few. He is strong in his certainty that the Sound is the key in Environmental Psychology of a successful workplace, keeping the sound as the read thread throughout the strategy, design and implementation. .
ERWIN SCHMITZ, SALES MANAGER, AVEX
Erwin is a passionate and experience in audiovisual communication and the possibilities to help organizations reach their goals and objectives. During his time as an account manager in the medical market he was continuously trying to improve the patient experience and the work process of doctors and assistants. A critical market where lives are depending on good communication. Erwin gained a lot of experience on finding the right needs of the customer and tried place himself in the shoes of the audience. That experience helped in the process, defining and implementing the challenges each employee or customer faces during every workday in and around the office. So that Erwin as an AV integrator with the challenges on the table, can advise the right solution for the right situation.
TIM MERKENHOF WORKPLACE CONSULTANT CONCEPT DESIGNER, WORKWIRE
Tim is an experienced advisor for workplace consulting projects where people, space, process, brand identity and resources come together. For more than 10 years he has been advising clients with his multidisciplinary and design thinking approach. By means of co-creation he works on the conceptual development of workplace concepts and designs. Due to his wide range of experience in construction, with leading architects and as a lead consultant on large-scale workplace strategy and concepting projects, he has knowledge of the entire process and speaks the language of all parties involved. Tim translates the pronounced and latent wishes to a work environment where users feel optimally facilitated.
ESTHER ROELOFS PROJECT LEAD MANAGER, WORKWIRE- Moderator of the day
Esther played a key role in workplace consulting assignments for a mix of private and public sector clients. She has an outstanding ability to lead diverse teams in establishing vision, setting goals, and successfully developing and implementing new workplace concepts that have measurable bottom-line results. Her methods have challenged the value of outdated organizational space utilization, bringing competitive advantage to a significant range of international corporations. Her work in the workplace consulting area has spread from the Netherlands to include several workplace strategy assignments in Belgium, France, Germany, the UK and the Nordics.
The Swedish Chamber of Commerce would like to thank all participants for contributing to the success of the Swedish Chamber Patron Dinner on November 22, 2016. We cordially thank H.E. Ambassador of Sweden and Honorary Chairman of the Swedish Chamber of Commerce Mr. Per Holmström for hosting the Patron Dinner 2016 and Mr. Jeroen van der Veer, ING Keynote speaker and Honorary Guest, for sharing his experiences and introducing the Round Table discussions.
View event
Register for this event - Non-members
Register for this event - Members
Thank you for registering for this event. Below you can let us know if you want to bring a guest, and if so, how many.