Back to overview
APRIL 21, 2022
9.00-11.00
Swedish Residence, Lange Voorhout 28, The Hague
The Swedish Chamber thanks you for attending the Swedish Chamber of Commerce's Chamber Executive Breakfast Meeting on climate change and sustainability Featuring
H.R.H Prince Jaime de Bourbon de Parme, Climate Envoy for the Netherlands on April 21, 2022.
The Swedish Chamber of Commerce would like to extend a warm thank you to H.R.H Prince Jaime de Bourbon de Parme for his very interesting and inspiring presentation on his role as Dutch Climate Envoy and the challenges we face looking forward.  We also would like to extend our sincere thanks to the Ambassador of Sweden, H.E. Mr. Johannes Oljelund for hosting the Swedish Chamber's Executive Breakfast meeting at his beautiful residence and to all guests for their presence and valuable contributions to the discussions.
As Climate Envoy, H.R.H. Prince Jaime de Bourbon de Parme is the dedicated representative of the Netherlands for climate diplomacy. He is to raise international climate ambitions and find common solutions for reducing greenhouse emissions and enhancing the regenerative power of nature. He also sits on the board of the Green Climate Fund, which assists developing countries in adaptation and mitigation. Jaime has an extensive diplomatic career in forging partnerships for innovative solutions to complex global challenges. As Senior Advisor for Private Sector Partnerships (2018-2021) to the United Nations Refugee Agency (UNHCR) his mission was to find private-sector solutions for refugees, among which access to clean energy.
As the Ambassador of the Netherlands to the Holy See (Vatican, under the leadership of Pope Francis) he partnered on
climate action, forced migration, and peace negotiations (2014-2018). As Special Envoy for Natural Resources (2011-2014), he initiated the Responsible Mining Index and set up conflict-free supply chains of metals and minerals in the Democratic Republic of Congo with the private sector and civil society. He was selected to be a member of the Cabinet of the European Commissioner for Competition (2005-2007), worked in the field as a political advisor to the Dutch Commander of the NATO Peacekeeping Mission in Afghanistan (2004), and helped set up the Netherlands Embassy in Iraq (2003). He has held various other roles in MENA, Africa, and Latin America.
ABOUT THE SWEDISH CHAMBER EXECUTIVE BREAKFAST MEETINGS
The Swedish Chamber of Commerce Chamber Executive Breakfast Meetings bring together tailored and differently composed, intimate groups of business leaders for interactive discussions.
Scroll down for more event photos.
Photos by Swedish Chamber of Commerce.
Venue
Swedish Residence,
Lange Voorhout 28,
The Hague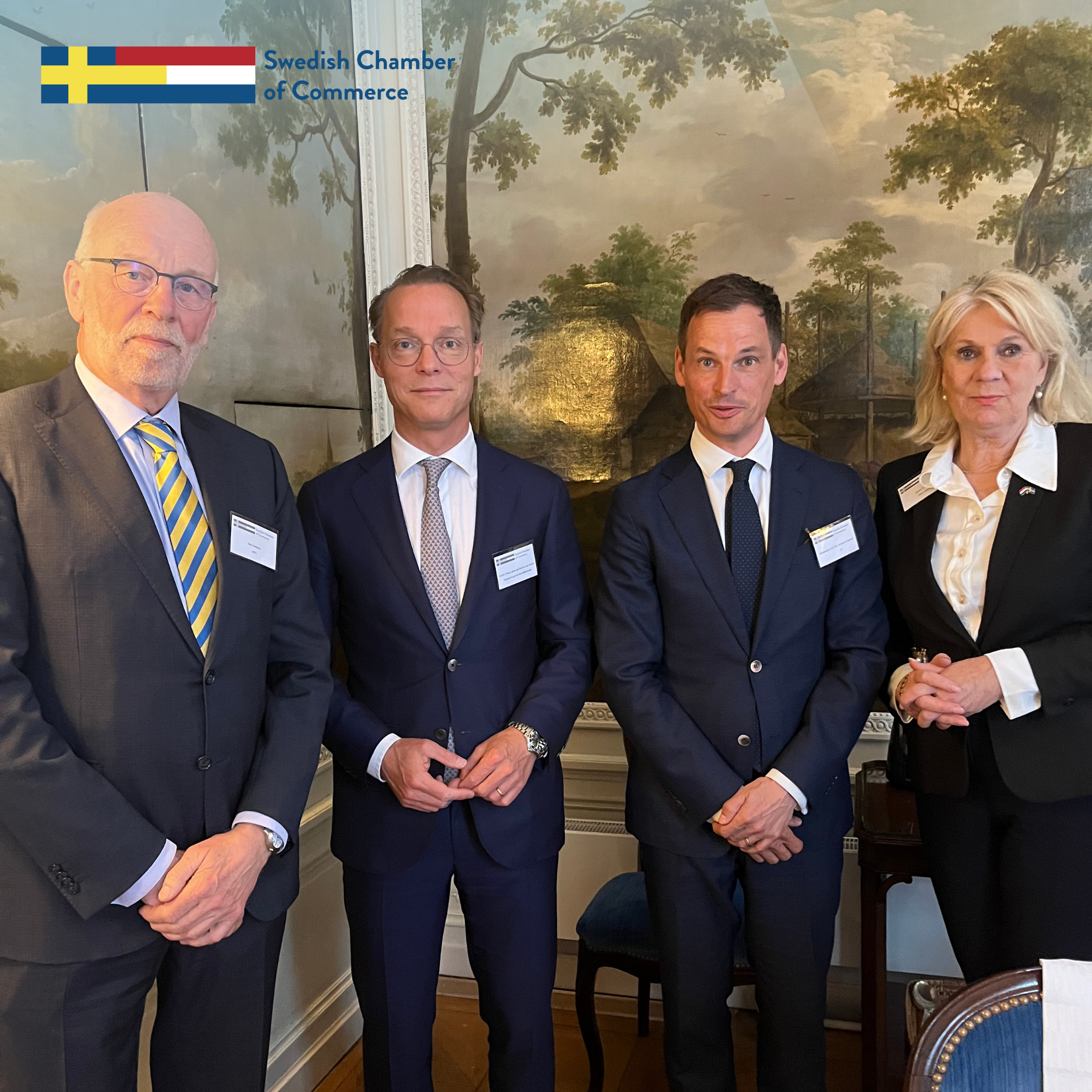 The Swedish Chamber of Commerce would like to thank all participants for contributing to the success of the Swedish Chamber Patron Dinner on November 22, 2016. We cordially thank H.E. Ambassador of Sweden and Honorary Chairman of the Swedish Chamber of Commerce Mr. Per Holmström for hosting the Patron Dinner 2016 and Mr. Jeroen van der Veer, ING Keynote speaker and Honorary Guest, for sharing his experiences and introducing the Round Table discussions.
View event
Register for this event - Non-members
Register for this event - Members
Thank you for registering for this event. Below you can let us know if you want to bring a guest, and if so, how many.