Back to overview
Swedish Chamber of Commerce Sustainability & Innovation Summit
"Driving the Green Transition Together" and Exclusive Lucia Dinner
Date: December 15, 2023
Hilton Hotel Amsterdam
Join us on December 15, 2023, as the Swedish Chamber of Commerce presents the Sustainability & Innovation Summit 2023 – "Driving the Green Transition Together" followed by the exclusive annual Lucia Dinner at Hotel Hilton, Amsterdam.
Our summit will bring together business leaders, entrepreneurs, politicians, and academics from Sweden and the Netherlands. Together, we'll explore insights from the recent Swedish Presidency of the European Council, focusing on advancing the European sustainability agenda. We'll also delve into the key outcomes and next steps from the UN Climate Change Conference (COP28) in Dubai, which precedes the Swedish Chamber Summit by a few weeks. Discover how Swedish and Dutch companies are adapting their business models for green transitions, the collaborations propelling their efforts, and how they navigate the intricate landscape of policies and regulations under the European Green Deal.
Join the Swedish Sustainability & Innovation Summit 2023 to gain thought leadership insights, learn about the latest innovations, and be inspired by the change-makers turning the green transition into reality. Extend the invitation to your colleagues, partners, and business relations for a fantastic day at the Swedish Chamber of Commerce
Following the Summit, the Swedish Chamber is hosting its Exclusive Annual Lucia Dinner. Find the full program and secure your seats here.
---
Program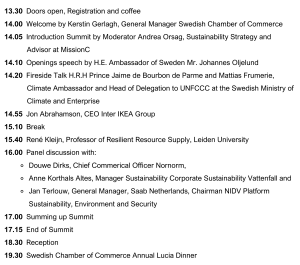 SPEAKERS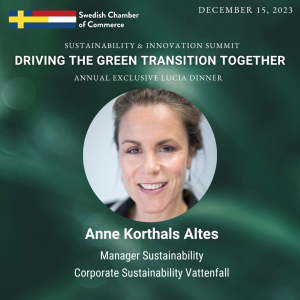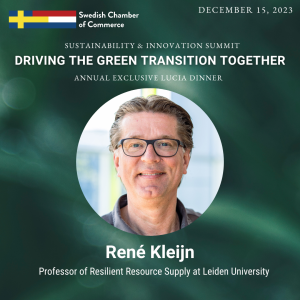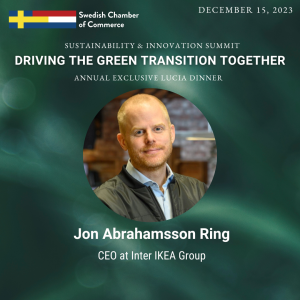 More speakers to be confirmed. 
MODERATOR
Booking information
Ticket Fees
VIP Table 10 persons including 3 seats for Summit – 2500
VIP Table 8 persons including 2 seats for Summit- 2200
Additional VIP Table seats for Summit – 45
Individual seats Dinner – 225
Individual seats Summit – 115
Individual seat Dinner non-member – 325
Individual seats Summit non-member – 175
Individual Combi seats Summit and Dinner- 300
All prices excl. VAT
When booking multiple individual tickets, we will do our best to accommodate your seating preferences, however, we cannot guarantee your guests are seated at the same table. By booking a table, all guests are guaranteed to sit together even if not all 8 seats are filled. Empty seats will not be filled by others to keep it your table. To book a table, please contact events@swedishchamber.nl
Not yet a Member of the Swedish Chamber of Commerce?
You are very welcome to sign up for the Swedish Chamber of Commerce Innovation & Sustainability Summit and Annual Lucia Dinner as a paying guest. However, if you become a member before December 1, 2023, you will be able to join the Summit and Dinner for our special member price. Read about our attractive Member fee offer for 2023/2024 here, and become a member today to make sure not to miss out on any of the exciting events for 2023/2024.
Terms & Conditions
Bookings are non-refundable, but at the discretion of the organizer, you can change the name of the person(s) attending. For this, please contact events@swedishchamber.nl
Dress code: Black Tie
Sponsors
Exclusive Sponsor:
Corporate Sponsors:

In-Kind Sponsors:

SPECIAL HOTEL OFFER DECEMBER 15 – DECEMBER 16.
A discounted rate has been reserved for all attendees of the Swedish Chamber's event. Click here to reserve your stay at the Hilton, including the event's discounted rate. The event rate is bookable until the Event date, 15 December 2023, and includes breakfast.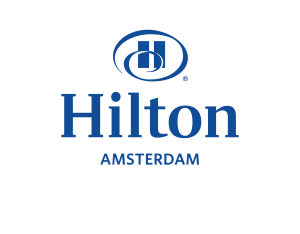 Would you like to know more about our Sponsor possibilities?
Welcome to contact our event team: events@swedishchamber.nl
Venue
Hilton Amsterdam
Apollolaan 138
1077 BG Amsterdam
Participation Fee
TICKET FEES
VIP Table 10 persons  including 3 seats for Summit- 2500
VIP Table 8 persons including 2 seats for Summit- 2200
Individual seats Dinner- 225
Individual seats Summit- 115
Individual Combi seats Summit and Dinner- 300
Individual seat Dinner non-member- 325
Individual seats Summit non-member- 175
Combi price Summit and Dinner non-member - 475
Registration details
Bookings are non-refundable after 30 July 2023, but at the discretion of the organiser, you can change the name of the person(s) attending. For this, please contact events@swedishchamber.nl
Andrea Orsag - Sustainability Strategy Advisor
Sustainability and Circular Economy Evangelist. Andrea is a founder of MissionC, a strategy advisory based in Amsterdam on a mission to accelerate the green transition on a global scale through circular economy and ESG incorporation. Advisor and Non-Executive Director with 15 years of experience combining Risk Management, Strategy, and Change Management cross-industry, both for the commercial sector and not-for-profit organisations internationally. Helping organisations bring their ideas to life by refining their sustainability strategies, adjusting business models towards circularity, delivering programs and engaging stakeholders. Recently she has been appointed sustainability expert at European Commission. Andrea also acts as a speaker, guest lecturer, expert moderator and facilitator on topics related to Circular Economy, Sustainability and Impact.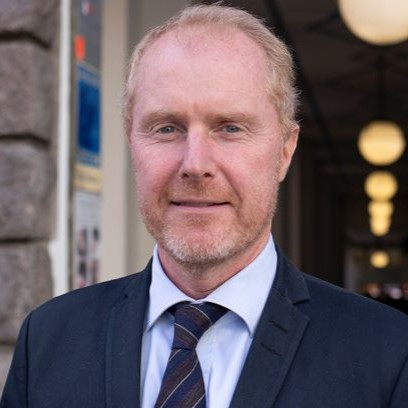 Mattias Frumerie, Climate Ambassador and Head of Delegation to UNFCCC at Swedish Ministry of Climate and Enterprise
Enthusiastically engaged in the transition to climate-smart societies globally and climate diplomacy to increase ambition in implementing the Paris Agreement. I have 20+ years' experience in working as a diplomat in the Swedish foreign service, as well as an EU advisor at the office of the Swedish Prime Minister. In addition to postings in Budapest and Brussels, I have worked on issues related to Europe and the EU, Africa, the US as well as managed teams on EU single market, strategic communications and planning. Guided by science, inspired by technology.
H.R.H Prince Jaime de Bourbon de Parme
As Climate Envoy, Jaime de Bourbon de Parme is the dedicated representative of the Netherlands for climate diplomacy. He is to raise international climate ambitions and find common solutions for reducing greenhouse emissions and enhancing the regenerative power of nature. He also sits on the board of the Green Climate Fund, which assists developing countries in adaptation and mitigation practices Jaime has an extensive diplomatic career in forging partnerships for innovative solutions to complex global challenges. As Senior Advisor for Private Sector Partnerships (2018-2021) to the United Nations Refugee Agency (UNHCR) his mission was to find private sector solutions for refugees, amongst which access to clean energy. As the Ambassador of the Netherlands to the Holy See (Vatican, under the leadership of Pope Francis) he partnered on climate action, forced migration and peace negotiations (2014-2018). As Special Envoy for Natural Resources (2011-2014), he initiated the Responsible Mining Index and set up conflict-free supply chains of metals and minerals in the Democratic Republic of Congo with the private sector and civil society. He was selected to be a member of the Cabinet of the European Commissioner for Competition (2005-2007), worked in the field as political advisor to the Dutch Commander of the NATO Peacekeeping Mission in Afghanistan (2004) and helped set up the Netherlands Embassy in Iraq (2003). He has held various other roles in MENA, Africa and Latin America. Born in the Netherlands, Jaime holds an MA from Johns Hopkins University Paul H. Nitze School of Advanced International Studies (SAIS) and a BA from Brown University.
Anne Korthals Altes, Manager Sustainability Corporate Sustainability Vattenfall
Working in the energy industry for over 20 years, always a strong connection to Sustainability, whether from Public & Regulatory Affairs side of things, Business Development or in the heart of Sustainable strategy at Group Sustainability. Over the years, my focus areas have been many: from optimizing renewable energy portfolio, to developing products for BtB customers, Sustainability legislation, to Sustainability Reporting. The last couple of years, I've been focusing our Human Rights impact connected to Vattenfall's business (e.g. Human Rights Impact Assessment, affordability of energy, Just Transition) and ESG reporting (e.g. CSRD, assessments).
Jan Terlouw, Directeur Saab Nederland Voorzitter NIDV Platform Duurzaamheid, Milieu en Veiligheid
After having received his MSc degree at Delft University of Technology in Mechanical Engineering/Systems & Control and having published several articles on Robust Flight Control, Jan Terlouw started his career at The Royal Netherlands Aerospace Centre in 1992. There he led several Dutch and European research projects on Flight Mechanics, after which he became Head of the Air Traffic Management and Airports Department. In 2006 he moved to a Dutch Air Traffic Management company called HITT, where he held several management positions and which became part of Saab in 2012. Currently he is the director of Saab in The Netherlands. In addition, he is board member of the Swedish Chamber of Commerce in the Netherlands and he is Chairman of the sustainability platform of NIDV, which is the branch organization for The Netherlands Industries for Defence & Security.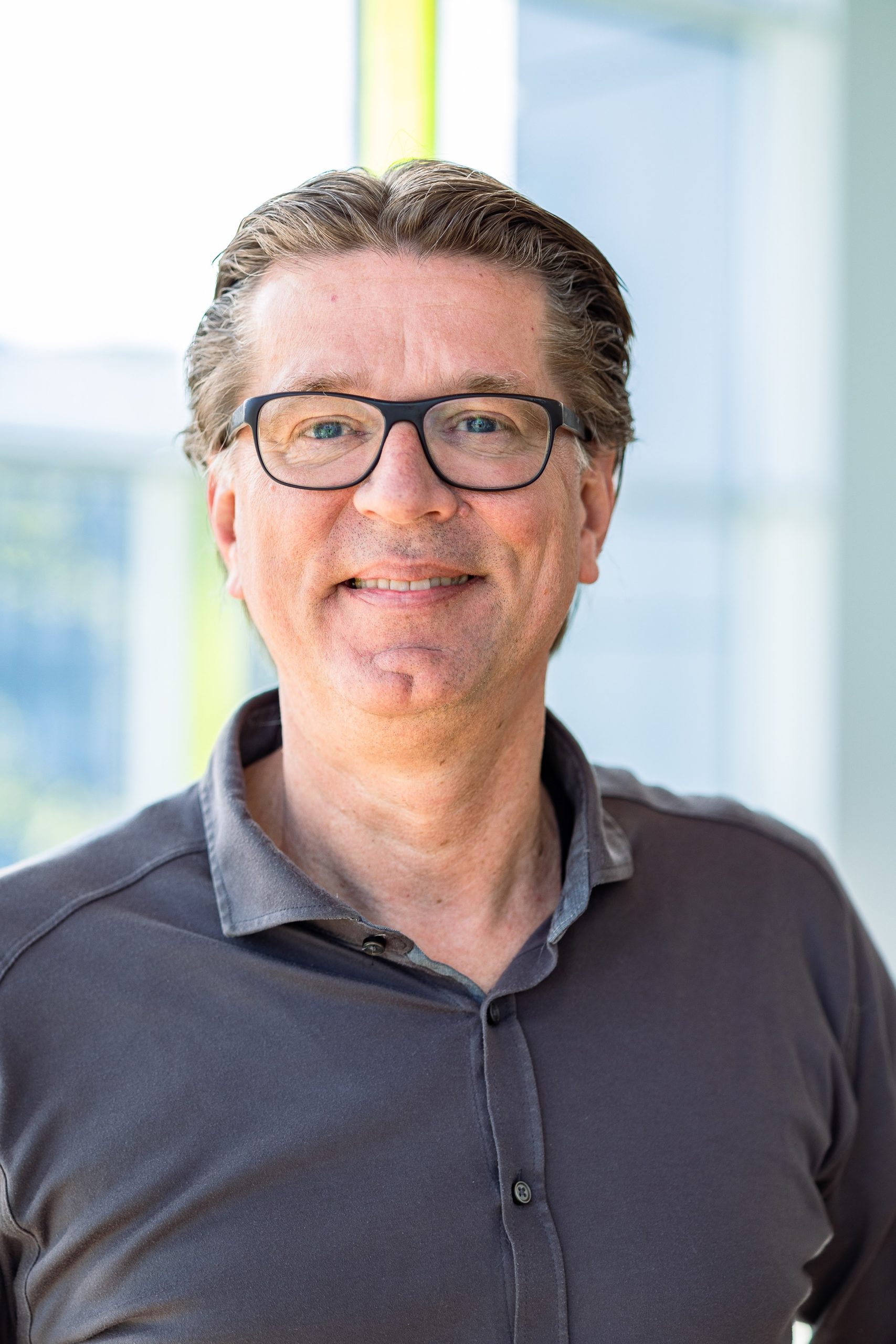 René Kleijn, Professor of Resilient Resource Supply, Leiden University
René Kleijn is a Professor of Resilient Resource Supply at Leiden University in the Netherlands. He holds an MSc in Chemistry and earned his PhD in Industrial Ecology. He is the head of the Department of Industrial Ecology at the Institute of Environmental Sciences of Leiden University. Additionally, he serves as the Scientific Lead of the Circular Industries Hub at the Leiden-Delft-Erasmus Centre for Sustainability. Kleijn has made significant contributions to the field of Industrial Ecology playing a pivotal role in shaping it into a recognized scientific discipline. Furthermore, he was one of the co-founders of the Leiden-Delft master's program in Industrial Ecology, which has since become the largest educational program of its kind worldwide. He has actively participated in numerous large consortia as part of EU-funded research projects. His research primarily centers on sustainability matters, employing quantitative methods like Life Cycle Assessment and Substance and Material Flow Analysis. Kleijn's expertise extends across various industries, including chemicals, energy, and recycling, where he effectively applies these methodologies to address environmental challenges. In recent years, his research has focused on critical raw materials, resilient supply chains, circularity, and material constraints within the evolving landscape of the energy transition.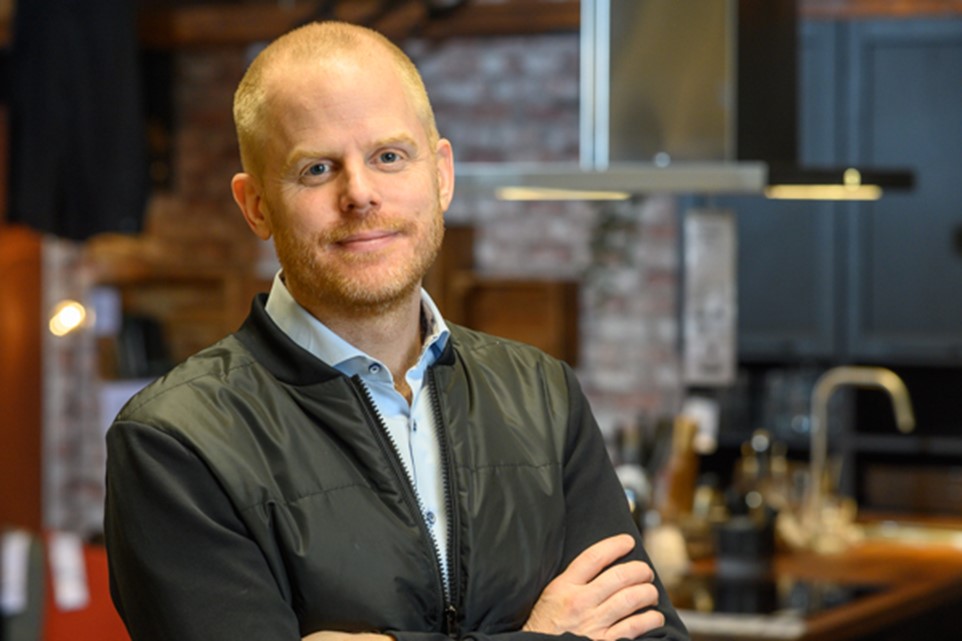 Jon Abrahamson Ring
Jon Abrahamsson Ring started his IKEA career in IKEA Örebro in 1998 and various assignments followed, among others in the IKEA Canada and IKEA China retail organizations. He was also assistant to IKEA founder Ingvar Kamprad for four years. In 2008, Jon left the IKEA business to become CEO of fashion brand Filippa K and later CEO of gardening brand Plantagen. He re-joined IKEA when he started working for Inter IKEA Systems in 2017. Jon became CEO of Inter IKEA Group in 2020.
Douwe Dirks
Douwe Dirks is the Chief Commerical Officer of Nornorm, the flexible and fully circular office furniture subscription per square meter per month, and previous Managing Director of Swedish co-working operator Epicenter Amsterdam, now Edge Workspaces.
Register for this event - Non-members
Register for this event - Members
Thank you for registering for this event. Below you can let us know if you want to bring a guest, and if so, how many.