Back to overview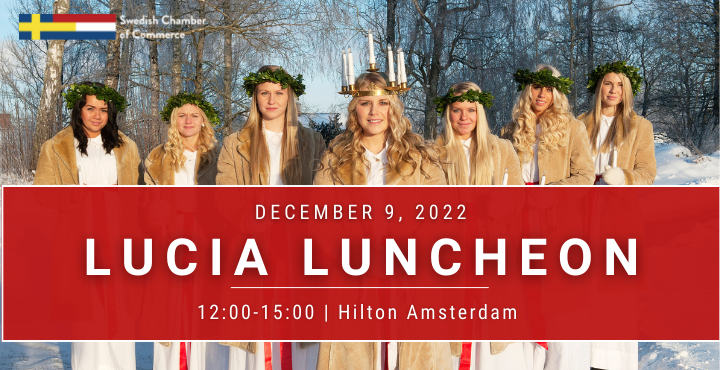 Swedish Chamber of Commerce Lucia Luncheon
December 9, 2022
12:00-15:00
Hilton Amsterdam
---
The Swedish Chamber of Commerce invites you to join our Lucia Luncheon on December 9, 2022 at Hilton Amsterdam! Make sure to book your company table, or individual seat(s) as it will once again mark the highlight of the season.
The Swedish Chamber's Lucia celebration has a long history dating back to 1960. Today, it is our most important social event of the year, bringing together business people from across the Swedish-Dutch community.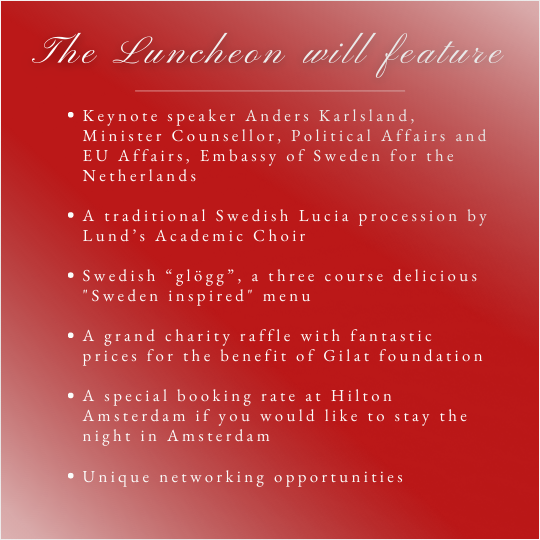 We welcome all members to sign up together with colleagues, partners, and business relations for a Christmas Luncheon with Swedish traditions and hospitality.
This event offers excellent sponsor opportunities, for more information contact events@swedishchamber.nl
More information is to be confirmed.
---
Hilton Amsterdam Discount
The Swedish Chamber is proud to present Hilton Amsterdam as its venue for this year's Lucia Luncheon on December 9, 2022.
Special Hotel Arrangements:
To book your hotel room(s) for the special rate offered by Hilton Amsterdam for the night of December 9, to December 10, please click here to make your reservation and to take part of the discounted pricing.
For further questions, please send an email to events@swedishchamber.nl
---
Strömma Amsterdam Light Festival
The Amsterdam Light Festival is taking place during the month of December. This beautiful annual festival is great to combine with the Lucia Luncheon as it is best enjoyed at night. Swe-Cham member Stromma Netherlands is now sharing discounted prices on canal tours during the festival. Click here to book your tickets.
---
This event is sponsored by:
---
The Charity Raffle is sponsored by:
---
Venue
Hilton Amsterdam
Apollolaan 138
1077 BG Amsterdam
Participation Fee
Ticket fee member: 115 euro excl. VAT
Ticket fee company table of 8: 840 euro excl. VAT
Ticket fee non member: 145 euro excl. VAT
Registration details
Guests invited by a member of the Swedish Chamber of Commerce attends for the same fee as a member.
For booking multiple tickets, or for more information, contact events@swedishchamber.nl. Please add the name(s) of your guest(s) in your booking, and if there are any special dietary needs.
Bookings are non-refundable, but at the discretion of the organizer, you can change the name of the person(s) attending. For this, contact events@swedishchamber.nl.
The last day to sign up for this event is December 2, 2022.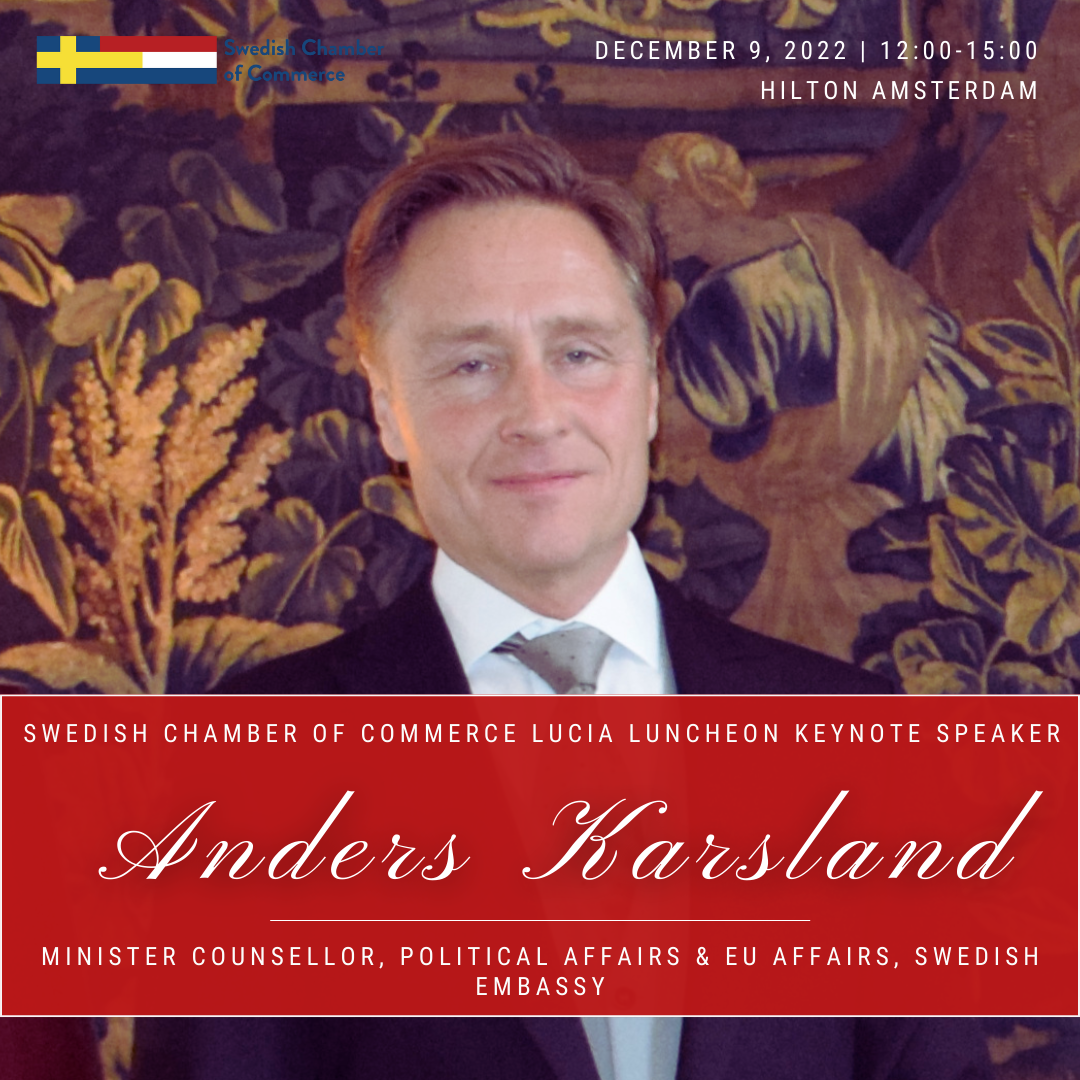 Anders Karsland
Minister Counsellor, Political Affairs and EU Affairs, Swedish Embassy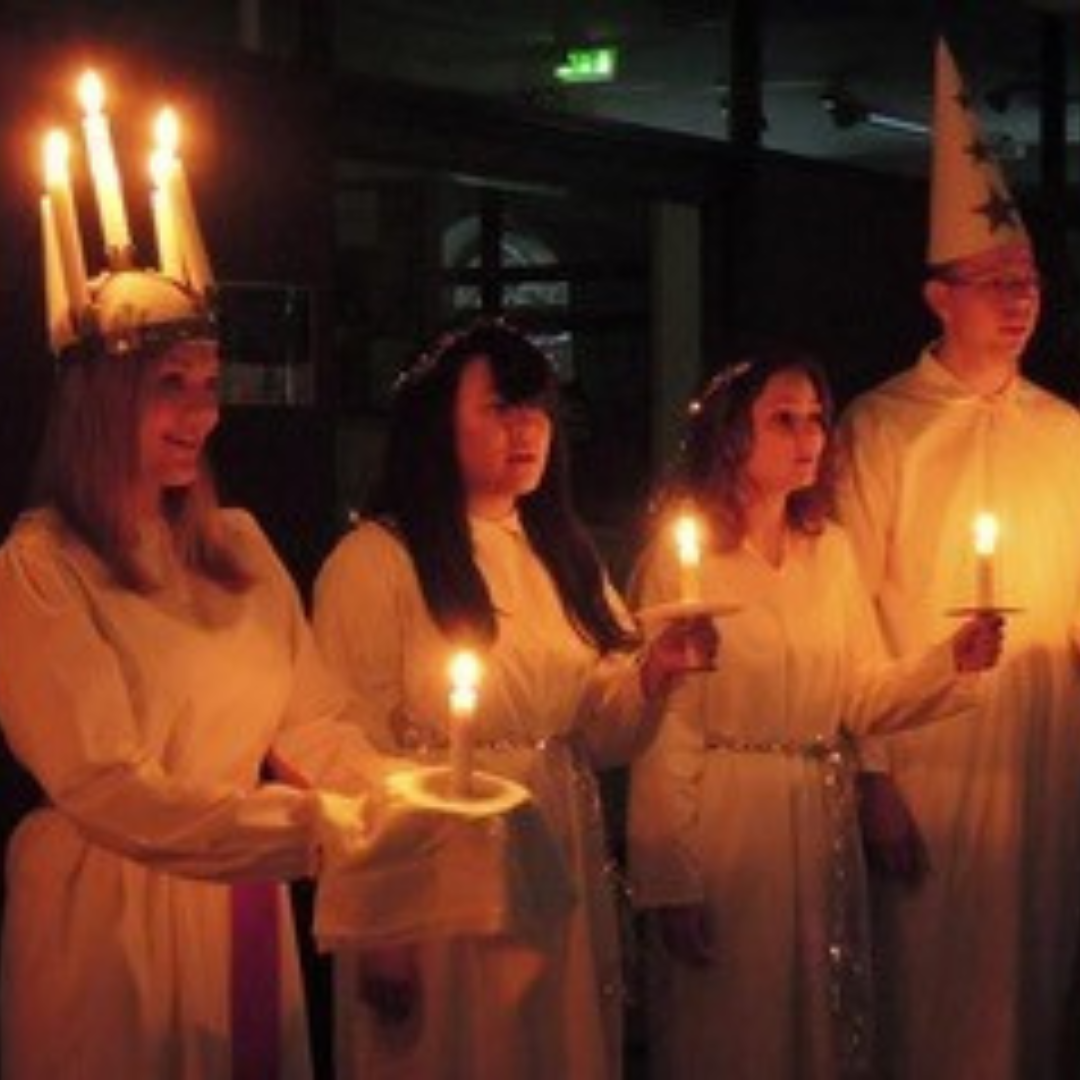 Lund's Academic Choir
Lund's Academic Choir is a young choir with a long tradition and a high level of ambition. The choir was formed in 1927 as a women's choir but later became a mixed choir in order to expand its repertoire. The singers in the choir are students and doctoral students with good singing experience and a great interest in music. Since January 1, 2014, the choir is an official ensemble at Odeum and thus part of Lund University.
Register for this event - Non-members
Register for this event - Members
Thank you for registering for this event. Below you can let us know if you want to bring a guest, and if so, how many.