Back to overview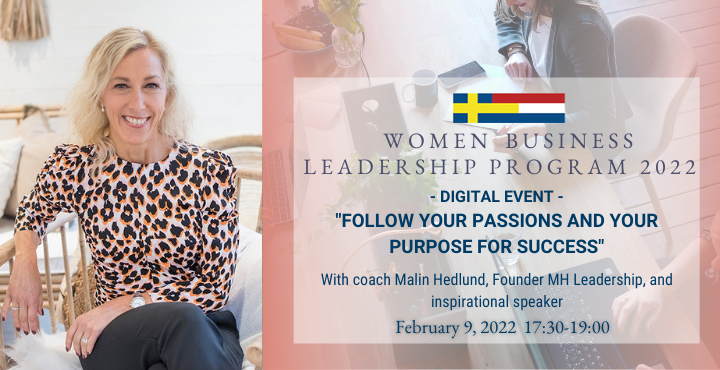 COACH:
Malin Hedlund, MH Leadership

INSPIRATIONAL SPEAKERS:
Benno Dijkhuis, Managing Director Fagerhult Benelux
Sara Wilhelmsson, Director Sales Development EMEA at Snowflake
On February 9, The Swedish Chamber of Commerce hosted the first session of the Women Business Leadership Program – Follow your Passions and your Purpose for Success. In this webinar coach Malin Hedlund, Co-founder MH Leadership, taught us how to build a resilient mindset, which will help us achieve our goals and to allow us to tap into what really inspires us.
The Swedish Chamber of Commerce would like to extend a warm thank you to our fantastic Coach Malin Hedlund, we all left the session boosted with new knowledge and new tools in our toolbox, and a hugely positive feeling. We would also like to thank our Inspirational speakers Benno Dijkhuis and Sara Wilhelmsson, everyone that participated in this event and our partner Schwedische Handelskammer in der Bundesrepublik Deutschland.
Due to the current Corona situation in the Netherlands, the launch of the Women Business Leadership Program was held digitally. The following sessions will be held live at Edge Technologies, Amsterdam.
This webinar was organized by the Swedish Chamber of Commerce for the Netherlands in partnership with:
"Participating in the Women Business Leadership program, provided by Malin via the Swedish Chamber, has been a great help in my daily live, both private and business wise! It has provided me with tips & tricks to be better aware of why I do things the way you do them, and if needed how I might be able change/improve. The term "ant-steps" is one that often comes to my mind. I really recommend you to join a session!
If you are not able to do all four, one is more than not at all! But I'm sure if you go for one you will most likely want to join all sessions. I always leave these session with such a positive boosted feeling."
Pernilla Guitink-Svensson, Process Improvement Professional at ASML
The Swedish Chamber of Commerce Women Business Leadership Program is powered by:
Participation Fee
This digital event is free of charge.
Registration details
Welcome to use digital registration below or send an email to events@swedishchamber.nl before February 8, 2022. Upon registration, you will receive a confirmation.
Sara Wilhelmsson, Director Sales Development EMEA at Snowflake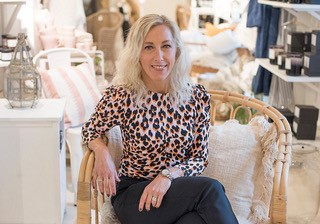 Malin Hedlund, MH Leadership
Malin Hedlund, the founder of MH Leadership, specializes in leadership development as well as individual coaching and has more than twenty years of experience in creating and delivering leadership programs for companies of all sizes. She has been leading the successful Swe-Cham Business Women Leadership Program for many years and coached a large number of women leaders within our network.
Benno Dijkhuis, Managing Director Fagerhult Benelux
Benno Dijkhuis (1974) started as Managing Director of the Netherlands in 2016 and is also responsible for Belgium since 2020. During his career, Benno has always been active in the B2B market. He has a solid track-record in business and marketing strategy. Since joining the Swedish Fagerhult Group, he has built strong relationships with the different brands of the group and applied this to the best advantage for the Benelux market.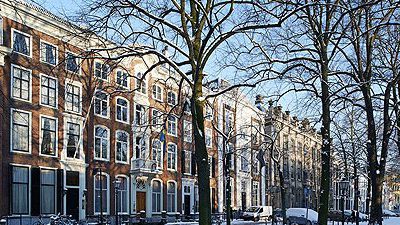 The Swedish Chamber of Commerce would like to thank all participants for contributing to the success of the Swedish Chamber Patron Dinner on November 22, 2016. We cordially thank H.E. Ambassador of Sweden and Honorary Chairman of the Swedish Chamber of Commerce Mr. Per Holmström for hosting the Patron Dinner 2016 and Mr. Jeroen van der Veer, ING Keynote speaker and Honorary Guest, for sharing his experiences and introducing the Round Table discussions.
View event
Register for this event - Non-members
Register for this event - Members
Thank you for registering for this event. Below you can let us know if you want to bring a guest, and if so, how many.