Back to overview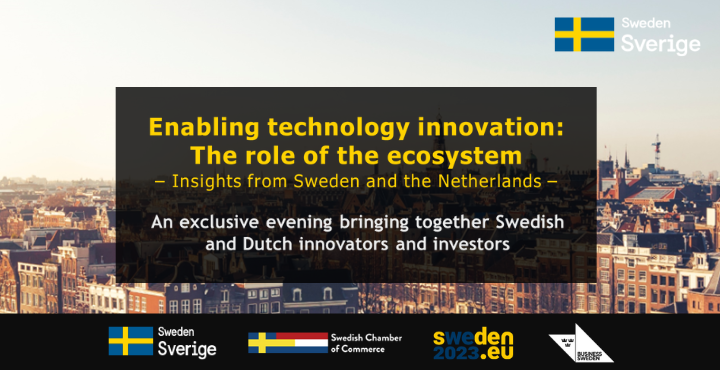 Date: June 14, 2023
Time: 17.00 – 19.00
Venue:
Swedish Chamber of Commerce, Edge Olympic, Fred. Roeskestraat 115, Amsterdam
---
An exclusive event bringing together Swedish and Dutch innovators and investors
Join us on June 14, 2023 in Amsterdam to explore technology innovation and what Sweden and the Netherlands can learn from each other!

At a time of ever-growing need for innovative and green technology, and on the occasion of Sweden holding the presidency of the Council of the European Union during 2023, the Swedish Trade & Invest Commissioner to Benelux, together with the Swedish Chamber of Commerce in the Netherlands, invite you to this exclusive gathering to explore the role of the ecosystem to enable technology innovation. 
Sweden and the Netherlands share a culture of innovation, and both countries host many successful technology startups and established companies with innovation and sustainability high on the agenda. These shared strengths create opportunities for knowledge-sharing, which can lead to the development of new innovations and technologies that benefit both countries and contribute to a more sustainable future.
---
Program
Welcome: Swedish Chamber of Commerce
Opening words and Moderator: Tomas Korseman, Trade & Invest Commissioner of Sweden to Benelux at Business Sweden
Keynote speakers and panelists
We look forward to seeing you in Amsterdam on the 14th of June 2023.
---
This event is by invitation only and offered free of charge, curtesy of Team Sweden.
Venue
Swedish Chamber of Commerce
Edge Olympic
Fred. Roeskestraat 115
1077 EE Amsterdam
Tomas Korseman, Trade & Invest Commissioner of Sweden to Benelux at Business Sweden
Business Sweden provides strategic consulting, business development and incubation services, to help Swedish companies grow their international sales, and to international companies seeking to invest and expand in Sweden. Business Sweden is among Sweden's most attractive employers and ranks as a best talent company. Market responsibility for Germany, Switzerland, The Netherlands, Belgium, and Luxembourg. Part of the EMEA management team.
Jan Sundelin, Partner PartInc Captial, CEO Tiekinetix, Board Member Swedish Chamber of Commerce and Chairman the Swe-Cham Tech Committee
Partinc is a European investment firm that invests in SaaS, Service as a Software, companies supporting organizations to become more efficient and sustainable. We partner up with business entrepreneurs who share our engagement and long-term commitment, and provide the experience and resources needed to accelerate their business growth.
Myrthe Hooijman, Director Nextleap and Government Affairs at Techleap.nl
As Director Nextleap & Governmental Affairs, Myrthe focuses on the Future of Dutch Tech, connecting partners to the challenges of founders and organizing an environment for co creative solution development. This with the aim to build a competitive ecosystem that empowers (repeated) success of Dutch leaders in Tech. In the previous Techleap.nl & StartupDelta years, Myrthe led the Policy & Government Affairs team and later on the Community area. Myrthe has a broad experience working with entrepreneurs from previous roles as an innovation advisor within the Human Health Sector and as an accountmanager for funding issues for entrepreneurs. Myrthe also worked as a policy advisor at the Ministry of Economic Affairs where she became an advocate for flexible and empowering policies to help innovative companies start, fund and grow their business. Her passion is to accelerate sustainable impact by connecting frontrunners. She sees it as her challenge to do this in an inclusive way.
Alexander Ljungström, Founder @ Einar & Partners | AIOps & ITOM Strategy
Einar & Partners is a niche firm focusing on AIOps & ITOM (IT Operations) strategy. Our passion is people, data and culture. Working with modern platforms and technologies such as ServiceNow, Azure, AWS and more we enable enterprises to find their digital truth. Specialized in complex ITOM & AIOps transformation, we have experience across the globe from over 40 successful engagements. Delivering measurable results, ROI, lowering OpEx & generating successful programs for AIOps & ITOM is our mission. Einar & Partners also offers services in the space of Go-To-Market strategy and portfolio development, together with a reliable implementation & capacity network.
Jelmer Wind, Co-Founder Team5pm
We believe in smart brands. Based on data insights we create and optimize YouTube channels and videos for the brands of tomorrow. Team5pm is the YouTube agency for publishers and brands. Through data-driven consultancy and algorithm-friendly content creation, we help clients achieve success in every stage of the video funnel. We do this as a full-service YouTube Agency in the areas of data research, strategy, content, production, channel growth, advertising and video sales through our own Premium YouTube Network. Through the combination of our years of extensive experience and the use of data, research and experiments, we know what works well on YouTube and how to utilize this for our clients. We translate that into a clear data-driven YouTube strategy that leads to better results.
Register for this event - Non-members
Register for this event - Members
Thank you for registering for this event. Below you can let us know if you want to bring a guest, and if so, how many.