Back to overview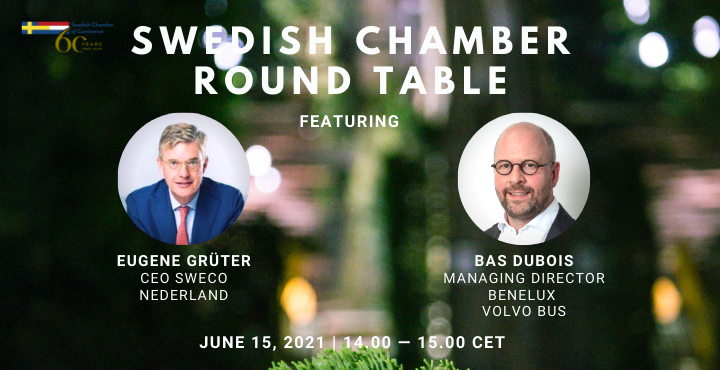 Webinar
Date: June 15, 2021
Time: 14.00 – 15.00
On June 15, 2021, the Swedish Chamber welcomed Bas Dubois, Managing Director Benelux Volvo Bus, and Eugene Grüter, CEO Sweco Nederland to talk about Urban Insights and Mobility at the Swedish Chamber's first digital Round Table.
During this Round Table, our speakers discussed how we can transform society to be more sustainable. The message was very clear; we cannot continue on the chosen path, it´s a dead end. Today the cars have conquered the streets and we are facing a lot of health problems due to pollution and the cost for society due to noise is enormous. There is also a lack of space for meetings and interactions. We have to put people first and cars second by lower speeds, multifunctional use of spaces, and restrict access for cars in certain areas. We should aim for more urban well-being with a walkable city where you have everything you need 15 min away. We should create space to live in rather than just move throw. To make this happen we need to involve the people and give them ownership, momentum, and support. We should look for opportunities together and we should work alongside to a sustainable future
The Swedish Chamber of Commerce would like to thank our speakers Eugene Grüter, CEO Sweco Nederland, and Bas Dubois, Managing Director Benelux Volvo Bus, for sharing their expertise, experience, and thoughts.
Watch the webinar below:
More than 70 percent of people in European cities breathe dangerous air, according to the European Environment Agency and 1 million deaths occur annually due to physical inactivity in Europe, states the World Health Organisation. The key to a healthier, more productive, greener, and less polluted city could be a new planning and design strategy based on the idea of shared speed in urban space.
The pandemic has given us new perspectives and revealed the flaws in street space distribution and public space as it disrupted people's travel behavior, compelling us to work from home, move shorter distances, and explore the city on a more local scale.
At the same time, about 70 percent of the global population – an astonishing 7 billion people – are expected to live in cities by 2050. With air pollution causing damage to human health and ecosystems, large parts of the population will not live in a healthy environment.
Eugene Grüter will share the outcome of the new Urban Insight report where Sweco envisions proximity, density, and shared speed as paths for transforming streets into incubators for health and well-being.
"A core strategy of streets as health incubators entails treating the city's various modes of transportation, from driving to walking, as more equal, a planning and design strategy that we call shared speed," says David Lindelöw, transport planner at SWECO in Gothenburg, Sweden, and one of the report's authors.
Bas Dubois, Managing Director Benelux at Volvo Bus:
"Just imagine a city with zero-emission vehicles only; clean and silent. For almost two decades Volvo buses is developing electromobility products and services for cities and in this presentation and Bas Dubois will take you on the journey Volvo buses has made and share the insights and experiences gained."
Welcome to join us!
Keynote Speakers:
  Bas Dubois Managing Director Benelux at Volvo Bus
Bas Dubois is an automotive engineer and working since 1992 in the Volvo Group. Bas has had various positions in the Volvo group; in sales engineering, service market management, sales management, key account management and is today the managing director of the Volvo Bus activities in Belgium, Netherlands, and Luxemburg (Benelux). Bas is married, has two children, and lives in The Netherlands and as a good Dutchman Bas likes to cycle on a road bike in his free time.
   Eugene Grüter CEO Sweco Nederland
Eugene Grüter, CEO of SWECO Netherlands is an experienced leader who builds strong relationships with clients and employees. He has a solid track record in achieving results and transforming organizations and a broad, top-level executive experience from the consulting engineering and construction industries, having served in top management positions in Royal HaskoningDHV and Royal BAM Group. Eugene Grüter has extensive experience in organizational and management development. Eugene Grüter is a member of SWECO's Executive Team.
Bas Dubois Managing Director Benelux at Volvo Bus Corporation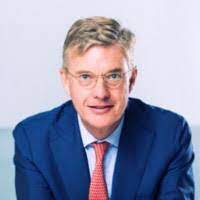 Eugene Grüter CEO Sweco Nederland
The Swedish Chamber of Commerce would like to thank all participants for contributing to the success of the Swedish Chamber Patron Dinner on November 22, 2016. We cordially thank H.E. Ambassador of Sweden and Honorary Chairman of the Swedish Chamber of Commerce Mr. Per Holmström for hosting the Patron Dinner 2016 and Mr. Jeroen van der Veer, ING Keynote speaker and Honorary Guest, for sharing his experiences and introducing the Round Table discussions.
View event
Register for this event - Non-members
Register for this event - Members
Thank you for registering for this event. Below you can let us know if you want to bring a guest, and if so, how many.