Back to overview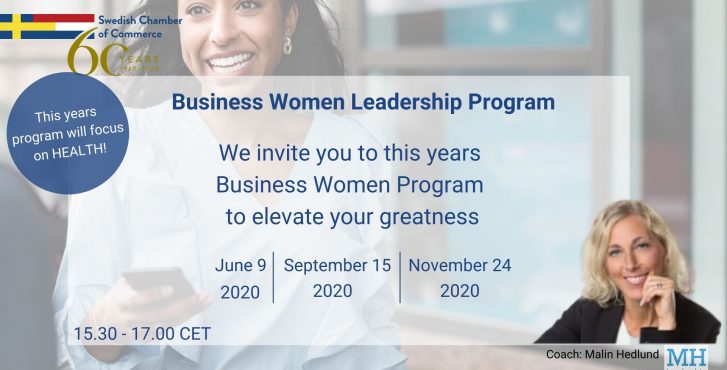 Business Women Program 2020 – Session 2, Online
On June 9, 202 0 the Swedish Chamber of Commerce hosted the  2nd session of Business Women Leadership Program 2020, featuring Malin Hedlund, MH Leadership. 
To improve our HEALTH, the topic of this session was how to gain Energy, both physically and mentally.
A big thanks to Malin for sharing her insights and expertise on health/energy and the power and effects it has on you and your leadership. Also, thank you to all participating business women for sharing your greatest tips. 
Malin Hedlund and Swe-Cham are looking forward to invite you to the next session of the Swedish Chamber of Commerce Business Woman Program on September 15, 2020 in person or as a webinar tba. 
Program June 9, 2020:
Time: 15.30 – 17.00 
How to build your confidence and stay healthy
How do you build self-confidence and how do you maintain this confidence?
This session will address the importance of good mental and physical health on self-confidence. Being healthy will not only allow you to boost your self-confidence, it will also have a positive impact on your career. It starts with knowing what you radiate and the impact it has both on you and on others.
About the Swedish Chamber of Commerce Women Business Leadership Program 2020
As an ambitious hardworking goal-oriented businesswoman we invite you to participate in Swedish Chamber of Commerce's Business Women Leadership Program 2020 to elevate your greatness. We know that coming together in a group with like minded people increases the inspiration and motivation to take the action steps needed.
The sessions will provide the tools and guidance for you to move forward and develop an effortless kind of leadership that gives you the inspiration and energy you want in your everyday life.
This year's focus is HEALTH!
Example of Topics that will be discussed:
Mental health and the correlation with finding your balance
Self-confidence
Exercise, what kind, why
Morning rituals/routines
Refill with fresh Energy
The following dates for the Swedish Chamber Woman Leadership Program this year are:
June 9, September 15 and November 24.
Read Malin's latest Blog post from May 28, 2020 about having a positive mindset to bring energy to your day.
Participation Fee
Members of the Swe-Cham Free of Charge
Members of the YP of the Swe-Cham Free of Charge
Non-Members Euro 12,00
Registration details
Registration for this Webinar is compulsory
The Swedish Chamber of Commerce would like to thank all participants for contributing to the success of the Swedish Chamber Patron Dinner on November 22, 2016. We cordially thank H.E. Ambassador of Sweden and Honorary Chairman of the Swedish Chamber of Commerce Mr. Per Holmström for hosting the Patron Dinner 2016 and Mr. Jeroen van der Veer, ING Keynote speaker and Honorary Guest, for sharing his experiences and introducing the Round Table discussions.
View event
Register for this event - Non-members
Register for this event - Members
Thank you for registering for this event. Below you can let us know if you want to bring a guest, and if so, how many.