Back to overview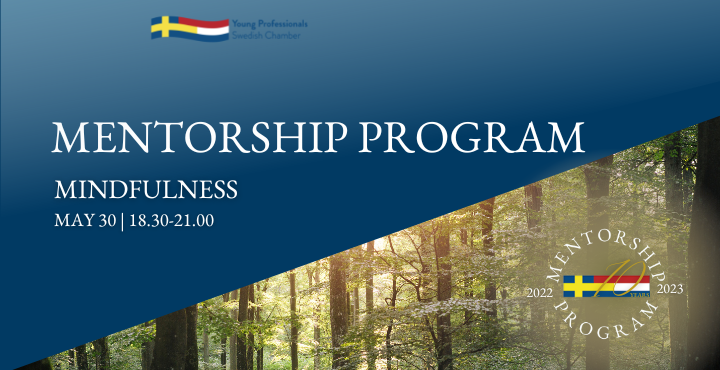 ---
Tuesday, May 30, 2023 – Mindfulness and Recovery
18.30-21.00
Live at the Swedish Chamber of Commerce
"21st century Leadership- Navigating in a World of Change"
---
Time Schedule and Program Details 2022/2023
Tuesday, May 30, 2023 – Mindfulness and Recovery
18.30-21.00
Live at the Swedish Chamber of Commerce
Amsterdam
Mentorship Program Coach Henrik Jan Guitink, Managing Partner of AIMS International Netherlands B.V
Insightful speaker: Tbc
More information to be confirmed.
For further information regarding the Mentorship Program please contact the Swedish Chamber of Commerce by sending an email to info@swedishchamber.nl
The Mentorship Program is made possible by the Swedish Chamber of Commerce in collaboration with AIMS International Netherlands B.V. , member of AIMS International.
Venue
Swedish Chamber of Commerce
Fred. Roeskestraat 115
1076 EE Amsterdam
Participation Fee
The participation fee for Mentors and Mentees for the Mentorship Program 2022/2023 including 5 seminars/workshops and workshop material is EUR 50,00 p.p. excl VAT
Registration details
Fill in the Application Form and send it to events@chamber.nl
Register for this event - Non-members
Register for this event - Members
Thank you for registering for this event. Below you can let us know if you want to bring a guest, and if so, how many.