Back to overview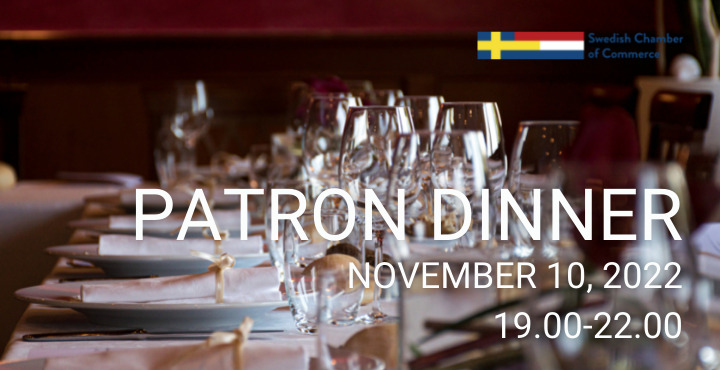 Time: 19.00-22.00
Venue:
The Swedish Ambassador's Recidence
Lange Voorhout 28
THe Hague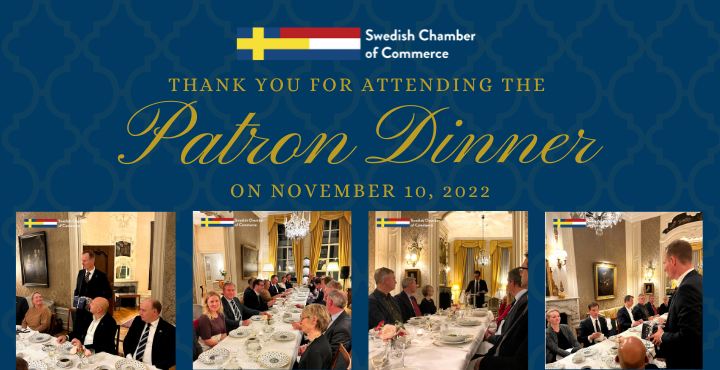 On November  10, 2022 The Swedish Chamber of  Commerce for the Netherlands was very honored to invite our Patron Members to the Annual Executive Patron Dinner 2022 hosted by H.E. Ambassador of Sweden Mr. Johannes Oljelund at the Swedish Residence in the Hague.
Founded in 2004, the patronship has grown steadily and today it consists of 34 Patron members representing a wide range of industries, from finance and automotive to retail and tech. The patrons reflect the strength of the Chamber's business platform and represent some of the largest brands in the Swedish – Dutch business community.
At the Patron Dinner 2022 we were very honored to welcome H.E. Ambassador of Sweden Mr. Johannes Oljelund as Keynote speaker. Ambassador Oljelund gave a presentation of  the latest reflections on the recent presented Swedish Budget and gave a preview of Sweden's agenda for the upcoming EU Presidency 2023 and an update on the ongoing process for Sweden joining NATO.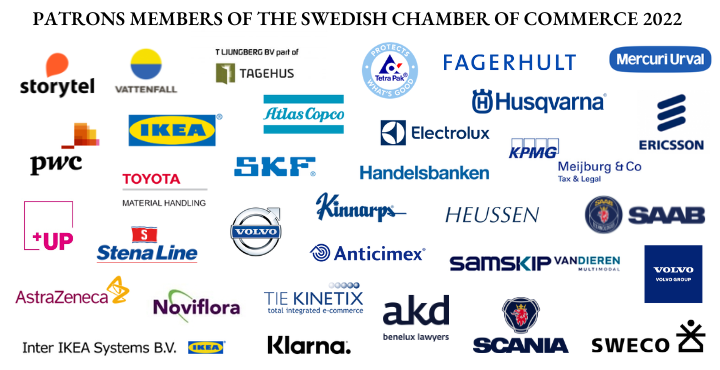 Venue
The Ambassador's Residence in the Hague.
Participation Fee
The Dinner is cordially offered to our Patron Members Free of Charge with thanks to the Swedish Embassy in the Netherlans.
Registration details
Please note that this event is by invitation only.
H.E. Ambassador of Sweden Mr. Johannes Oljelund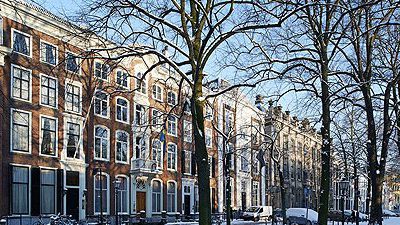 The Swedish Chamber of Commerce would like to thank all participants for contributing to the success of the Swedish Chamber Patron Dinner on November 22, 2016. We cordially thank H.E. Ambassador of Sweden and Honorary Chairman of the Swedish Chamber of Commerce Mr. Per Holmström for hosting the Patron Dinner 2016 and Mr. Jeroen van der Veer, ING Keynote speaker and Honorary Guest, for sharing his experiences and introducing the Round Table discussions.
View event
Register for this event - Non-members
Register for this event - Members
Thank you for registering for this event. Below you can let us know if you want to bring a guest, and if so, how many.