Back to overview
Time: 19.00-22.00
Venue: The Swedish Ambassador's Residence
Lange Voorhout 28
The Hague
---
Patron Dinner
The Patron Dinner is one of the Chamber's most exclusive annual events. Hosted by the Swedish Ambassador at the Swedish Residence in the Hague. The Patron Dinner brings together Patron Members and outstanding senior business leaders, entrepreneurs, and politicians from both Sweden and the Netherlands addressing the greater trends facing us with the purpose to create new bonds and synergies. Over the last few years, it has attracted some of the most prestigious keynote speakers in the Swedish-Dutch community.
More information is to be confirmed.
Please note that this event is by invitation only.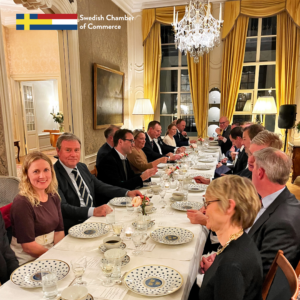 Patron Dinner 2022 Honorary Speaker H.E. Ambassador of Sweden, Mr. Johannes Oljelund.
---
Venue
The Swedish Ambassador's Recidence
Lange Voorhout 28
THe Hague
Register for this event - Non-members
Register for this event - Members
Thank you for registering for this event. Below you can let us know if you want to bring a guest, and if so, how many.