Back to overview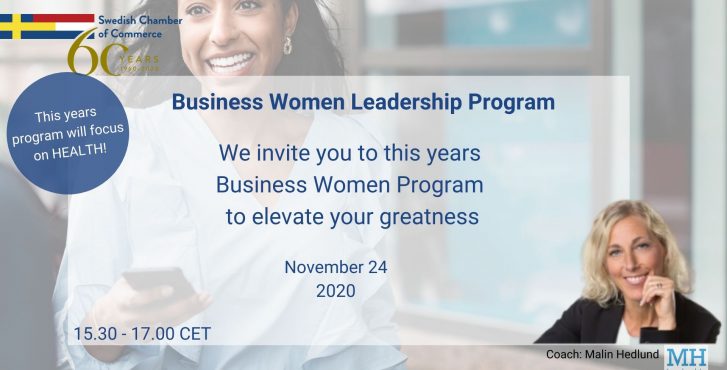 Business Women Program 2020 – Session 4: More information tba.
About the Swedish Chamber of Commerce Women Business Leadership Program 2020
As an ambitious hardworking goal-oriented businesswoman we invite you to participate in Swedish Chamber of Commerce's Business Women Leadership Program 2020 to elevate your greatness. We know that coming together in a group with like minded people increases the inspiration and motivation to take the action steps needed.
The sessions will provide the tools and guidance for you to move forward and develop an effortless kind of leadership that gives you the inspiration and energy you want in your everyday life.
This year's focus is HEALTH!
Example of Topics that will be discussed:
Mental health and the correlation with finding your balance
Self-confidence
Exercise, what kind, why
Morning rituals/routines
Refill with fresh Energy
This is the final date for the Swedish Chamber Woman Leadership Program this year.
Participation Fee
Members of the Swe-Cham Free of Charge
Members of the YP of the Swe-Cham Free of Charge
Non-Members Euro 12,00
Registration details
Registration for this Webinar is compulsory. Register digitally or send an email to events@swedishchamber.nl
Register for this event - Non-members
Register for this event - Members
Thank you for registering for this event. Below you can let us know if you want to bring a guest, and if so, how many.